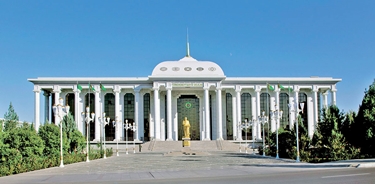 During the session on Saturday, 3 June, the Parliament of Turkmenistan adopted the Law "On ratification of the Agreement between the Government of Turkmenistan, the Government of the Republic of Azerbaijan and the Government of the Republic of Turkey on trade and economic cooperation".
The trilateral agreement is aimed at enhancing friendly relations between the parties, developing and stepping up mutually beneficial trade and economic ties, including long-term cooperation in the fields of trade in goods and services, energy, agriculture, food, chemical industry, transport and logistics, etc.
Turkmenistan's approval of this document, complementing the legal framework of trade and economic relations with Azerbaijan and Turkiye, will contribute to the opening of new areas of cooperation on issues of mutual interest, as well as the development and strengthening of trade and economic partnership, TDH agency notes.
The agreement on trade and economic cooperation between Turkmenistan, Azerbaijan and Turkiye was signed in December 2022 following the results of the first trilateral summit of the heads of state in Awaza (Turkmenistan). ///nCa, 5 June 2023
#Azerbaijan, #Turkey, #Turkmenistan, #trade, #economy