On May 31, 2023, the Acting Minister of Foreign Affairs of Turkmenistan Vepa Hajiyev met with the OSCE Secretary General Helga Schmid.
During the meeting, the current state and prospects for the development of cooperation between Turkmenistan and the OSCE in the political and economic spheres, in the field of energy and environmental security, promotion of parliamentary diplomacy, as well as in matters of the humanitarian dimension were discussed.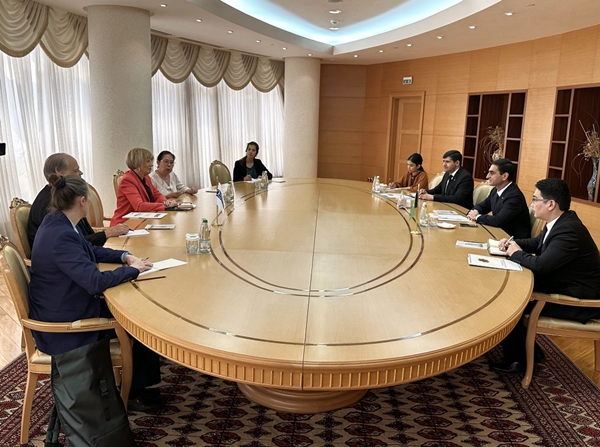 The Turkmen side noted that in the context of Turkmenistan's partnership with international organizations, long-term and effective collaboration with the OSCE occupies a special place. At the same time, the goals and objectives within the political, economic and humanitarian dimensions of the Organization's activities are priorities for Turkmenistan in determining the projects and programs implemented by OSCE in Turkmenistan and in the Central Asian region.
It was noted with satisfaction that cooperation in recent time between Turkmenistan and the OSCE in key areas, such as energy and environmental security, transport interconnectedness, has been steadily developing.
In the political dimension, the effective partnership achieved with the OSCE in countering terrorism, combating cross-border crime, drug trafficking, human trafficking, the threat of violent extremism and radicalization is noted. At the same time, strengthening joint cooperation in the field of cybersecurity is highlighted as a promising area.
The diplomats agreed that in recent years, Turkmenistan's ties with such OSCE institutions as the Parliamentary Assembly, the Office of the High Commissioner on National Minorities, the Office for Democratic Institutions and Human Rights, and the Representative on Freedom of the Media have noticeably intensified.
An exchange of views took place on issues of international and regional politics, security and stability in the region. In this regard, the leadership of the Organization emphasized the efforts of Turkmenistan in the process of resolving the situation and restoring the peace in Afghanistan, through the implementation of regional and international infrastructure projects, and the provision of effective humanitarian assistance to the neighboring country.
The Secretary General noted the role of the policy of Neutrality of Turkmenistan in the field of ensuring peace, security and sustainable development in the region and beyond. In particular, the importance of Turkmenistan's initiatives in the field of energy and environmental security, sustainable transport and water diplomacy, which correlate with the main priorities of the OSCE, was highlighted.
During the conversation, V.Hajiyev emphasized that Turkmenistan supports the development of "green" ports and interconnectedness in the Caspian Sea region, digitalization, facilitation of trade procedures and transport and logistics routes in Central Asia and the Caucasus.
It was also noted that in the humanitarian dimension, cooperation with the OSCE continues to strengthen through the Office of the Authorized Representative for Human Rights in Turkmenistan.
Special attention was focused on the importance of successful implementation in Turkmenistan of joint programs and projects carried out with the OSCE Center in Ashgabat. ///MFA Turkmenistan, 31 May 2023
#OSCE, #Turkmenistan