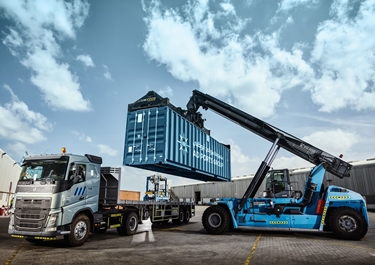 The UAE-based AD Ports Group (AD Ports) and SEG ENERA Group, one of the multisectoral holding companies of Uzbekistan, announced Monday, 6 March 2023, the creation of a new joint venture ADL-Ulanish, which will provide comprehensive global logistics services across Uzbekistan.
According to the press service of AD Ports Group, Through the new joint venture enterprise, AD Ports Group will bring its cutting-edge expertise in global supply chain logistics and advanced technology to the new company with the goal of addressing some of the logistics challenges faced by enterprises in Uzbekistan, which is a double-landlocked nation.
SEG ENERA Group will, in turn, contribute its regional expertise, best practices, and industrial assets, including warehousing capacity, alongside rail and trucking fleets.
ADL-Ulanish will offer a variety of advanced services, including: freight forwarding – air and land logistics; warehousing and storage; customs clearance services; and, the development of inland container depots and dry ports.
Strategically located at the crossroads between the Asian and European markets, Uzbekistan and the Central Asian region are a vital global center for land logistics, whose regional GDP, according to World Bank forecasts, will grow from 3.9% in 2023 to 4.3% in 2024.
AD Ports Group and Turkmenistan are also exploring the prospects of establishing a joint venture with Turkmenistan. This issue was discussed during an online meeting with the heads of the Agency of Maritime and River Transport of Turkmenistan.
In January of this year, AD Ports Group signed a strategic partnership agreement with the Kazakhstan National Oil Company (KazMunayGas) and a Memorandum of Understanding with the Ministry of Industry and Infrastructure Development of Kazakhstan for strategic cooperation in the development of the marine fleet and coastal infrastructure in the Caspian Sea.
In general, the role of the Central Asian region in the Eurasian connectivity continues to strengthen. The growing market of transport services, gaining momentum transport corridors and supply chains in the region, expanding trade relations attract the major players in the logistics market, such as, for example, AD Ports Group, which has been recognized by global leaders in maritime trade and logistics by numerous prestigious industry bodies.
AD Ports Group sees the launch of collaborative ventures in the Central Asian region as a key strategic priority, both as a major source of growth and support of key trading partners of the UAE.///nCa, 7 March 2023