The appearance of the logistics center of Turkmenistan in the Astrakhan special economic zone "Lotos" will be an important incentive for the development of cargo transportation from Central Asia to Russia and back, will allow connecting other countries that do not have direct access to the Caspian Sea to the international transport corridor "North-South", commented Sergey Milushkin, General Director of JSC "Special Economic Zone "Lotos" after signing of a memorandum on the establishment of Turkmen logistics hub in the port area in Astrakhan.
The document was signed in Ashgabat on the sidelines the Turkmen-Russian business forum between JSC "SEZ "Lotos" and JSC "Transport and Logistics Center of Turkmenistan".
The parties agreed to work together to increase cargo transportation along the North-South international transport corridor through the Caspian Sea and to start working on the implementation of an investment project to create a logistics center of Turkmenistan in the port SEZ of the Caspian cluster.
According to the memorandum, a roadmap for the project's implementation will be developed, and an agreement on the establishment of a logistics center will be reached, after the Turkmen side has prepared the logistics center project and conducted a preliminary assessment of the necessary investments.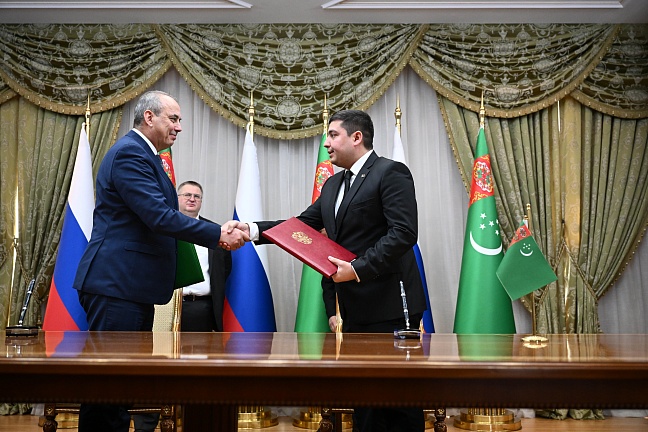 "We have come to an agreement on the beginning of a large joint work. It is necessary to work out all the technical and organizational issues for the creation of a logistics center, which in fact will be the first of its kind and will serve as an example for our other partners from the Caspian states. We have identified several sites in the port SEZ near the 8th and 9th berths of the port of Olya. Infrastructure is already being created there, anchor resident facilities are being built for transshipment of containers, grain and oil," Milushkin said.
Earlier, speaking at a business forum, the Governor of the Astrakhan Region, Igor Babushkin, welcomed Turkmenistan's decision to open its logistics center in Astrakhan.
He emphasized that the prospects of freight from Kyrgyzstan, Uzbekistan, and other Central Asian nations via the Astrakhan will help Turkmenistan to expand its transit potential.
"The government of our region will provide all possible assistance to the implementation of this project," the head of the Astrakhan region assured.
The "Lotus" special economic zone can be considered for the establishment of joint Russian-Turkmen production facilities, ship construction, and the development of export-import contacts between SEZ residents and Turkmen partners.
SEZ "Lotos" is located in the Astrakhan region bordering the countries of the Caspian basin, 40 km from the city of Astrakhan, at the intersection of the international transport corridor "North-South" and the northern part of the Great Silk Road. Within a 1000-kilometer radius of the zone, there are eight nations with a total population of more than 300 million people. ///nCa, 21 January 2023