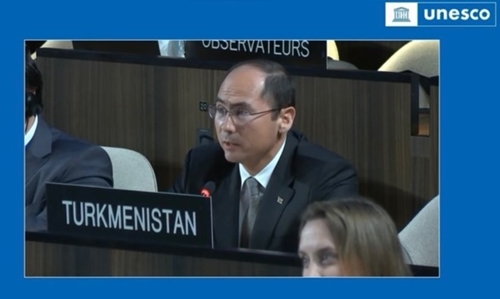 On 6 June 2023, Ambassador, Permanent Representative of Turkmenistan to UNESCO, Mr. Maksat Chariev attended the Ninth session of the Conference of Parties to the Convention on the Protection and Promotion of the Diversity of Cultural Expressions, held at UNESCO headquarters in Paris, Turkmenistan's Embassy to France reports.
At the opening session, the members of the Bureau were elected, the agenda and summary record of the eighth session were adopted. Secretariat during its report on its activities from 2021 to 2023 has informed that since last Session of the Conference of Parties three new State Parties joined the Convention, which are Capo Verde, Pakistan and Turkmenistan.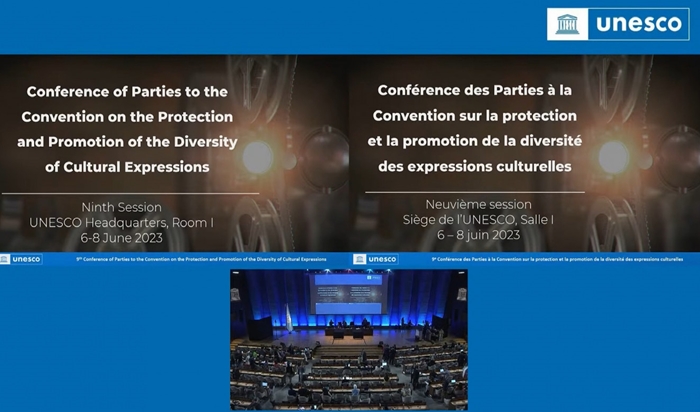 The representatives of States Parties to the Convention during their speeches at the opening session has extended their warm welcome and congratulations to these countries with joining the 2005 Convention and international movement of cultural diversity.
In his speech, Ambassador Mr. Maksat Chariev expressed gratitude to the Secretariat and representatives of all State Parties for their warm welcome and congratulations on Turkmenistan's joining the Convention.
He highlighted Turkmenistan's efforts in preserving traditional arts, crafts, music, and dance forms, as well as promoting cultural diversity and intercultural dialogue.
Turkmenistan has established cultural centers and museums, organized cultural festivals, and supported artistic exchanges to foster a deeper understanding of different cultural traditions, added Ambassador.
In conclusion, Ambassador expressed Turkmenistan's commitment to actively participate in working towards achieving the goals and objectives of the Convention and conveyed determination for continued cooperation with UNESCO and all participating countries.
During the session, which is being held from 6 to 8 June, the representatives of 152 States Parties to the Convention and the European Union have been analyzing the state of implementation of the Convention and the major challenges facing the cultural and creative sectors in the post pandemic world.
In particular, they have been discussing ways to enhance the diversity of cultural expressions in the digital environment, to ensure preferential treatment measures for cultural goods and services, and to enhance the status of artists and cultural professionals.
Turkmenistan joined the Convention on the Protection and Promotion of the Diversity of Cultural Expressions in July 2021. ///nCa, 7 June 2023
#UNESCO, #Maksat_Chariyev, #Turkmenistan, #Convention_on_the_Protection_and_Promotion_of_the_Diversity_of_Cultural_Expressions