Are you ready to experience Türkiye on a bicycle? From the Mediterranean to the Aegean, you can follow the traces of ancient civilisations while pedalling through beautiful bays where green and blue are intertwined in nature and swimming whenever you please in the clear waters and vast blues. Don't forget to sweeten your journey with the delicious tastes of Turkish cuisine while pedalling on unique routes on the back of your bike in Türkiye this summer. Türkiye hosts camping and glamping areas, bicycle-friendly hotels for sports fans travelling by bicycle, and hotels and hostels of different scales with national and international eco-labels. The "Bicycle Friendly Accommodation Facility" certificate, which Türkiye has implemented to promote cycling tourism and sustainable tourism, is awarded to hotels that meet various criteria such as providing safe parking for bicycles, employing staff knowledgeable about local cycling routes, and providing bicycle cleaning and repair space.
Eurovelo; combining history and nature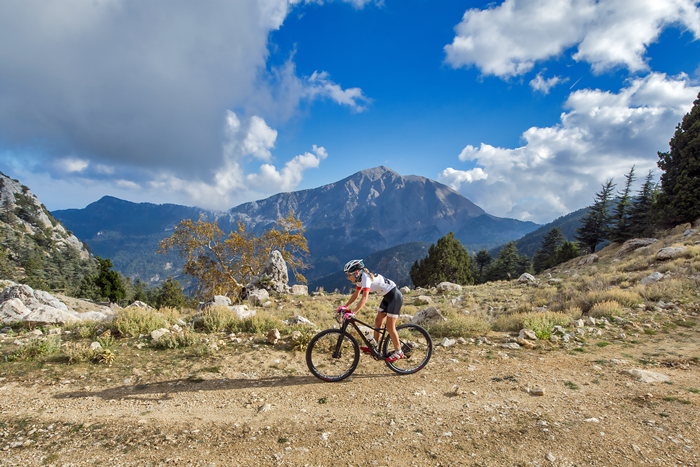 Türkiye is surrounded by routes specially created for those who want to explore the country on pedals. However, the country's routes are wider than local ones. With the cities of İzmir, Edirne and Kırklareli, Türkiye participates in EuroVelo (European Cycling Routes Network), which connects the entire European continent and combines 17 different long-distance cycling routes. While exploring the four corners of the country on a bike, you can take an unforgettable journey through history and nature by following the EuroVelo 13 – Iron Curtain Trail or EuroVelo 8 – Mediterranean Route. EuroVelo 13 Cycling Route enters Türkiye from Edirne and offers magnificent views to cyclists among sunflower fields. The EuroVelo 8 leg of the route, which enters Türkiye from İzmir's Dikili Port, passes through the ancient city of Pergamon, listed on the UNESCO World Cultural Heritage List, İzmir Bird Sanctuary, Karşıyaka, Alsancak, Seferihisar, Sığacık, Urla and Alaçatı respectively. Passing through beautiful spots, it ends in the Ancient City of Ephesus, another UNESCO World Cultural Heritage Site.
Living Like an Aegean in Turkaegean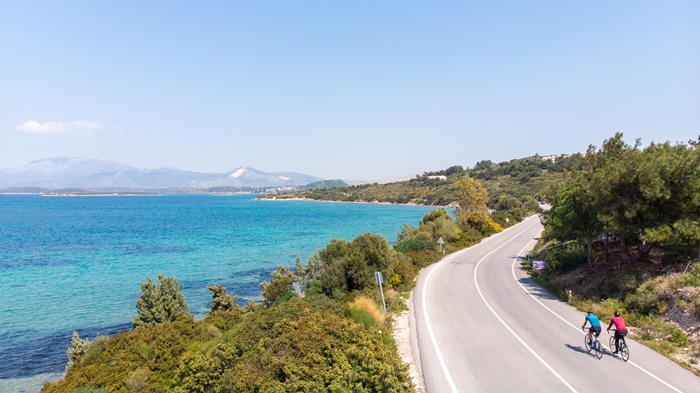 The time you spend in the Turkaegean (Türkiye's Aegean coast), famous for its magnificent beaches, turquoise waters and villages reminiscent of a postcard, will be amongst the most extraordinary experiences ever. Ephesus and Pergamum, ancient cities in Turkaegean, which are on the UNESCO World Heritage List, are on the route of the EuroVelo 8 as well as the Cittaslow towns of Foça, Seferihisar and Yenipazar and, of course, the most beautiful bays. Moreover, this unique geography is a real gastronomic paradise with many types of olives, figs, herbs and grapes, unique Turkish wines, and extraordinarily delicious and healthy cuisine based on olive oil.
Under the Turkish Riviera sun
When the roads take you to the Turkish Riviera, you will encounter the majestic Taurus Mountains and the ancient cities hidden in the forests on the Mediterranean coast. Thousands of years before you, the remnants of the civilisations that these lands hosted will brighten your day. For example, the ancient city hidden among the forests in the Ancient City of Olympos will fascinate you. Deep blues, pearly sands, ancient cities, canyons and exquisite roads leaning against green await you on this journey. Tent camps, bungalow houses or comfortable hotels will be next to you whenever you want to stop and rest.
A dreamlike journey: Towards the Fairy Chimneys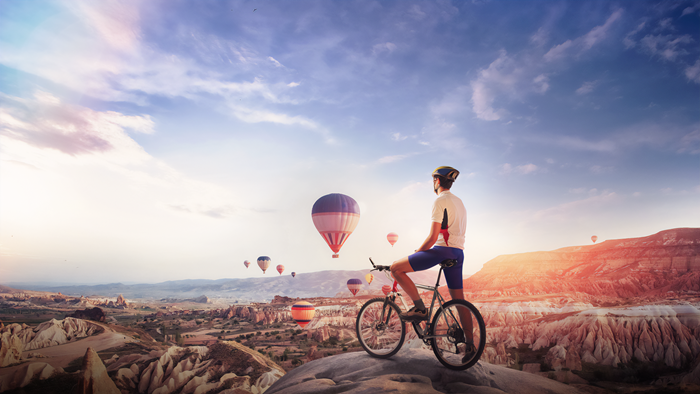 Resembling a magical land with its fairy chimneys, Cappadocia is an exceptional route to explore by bicycle. As you explore this unique geography on your bike, you will encounter ancient churches, underground cities and unique natural formations. While strolling around these vast lands on the back of a bicycle, remember to stop by the underground cities hundreds of meters below the ground, stay in a rock hotel and taste the wines produced in the region for thousands of years. ///nCa, 3 June 2023 [in cooperation with Embassy of Turkiye to Turkmenistan]
#Turkiye