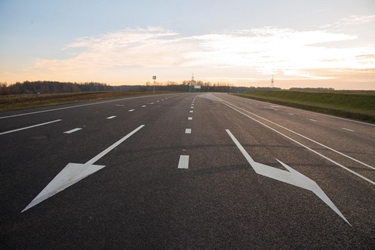 Russia intends to discuss the construction of a highway bypassing the Caspian Sea with Kazakhstan and Turkmenistan at the 'Russia – Islamic World: KazanForum forum' in May and possibly  a deal will be inked following the talks, told Marat Khusnullin, Russian Deputy Prime Minister to RIA Novosti.
The construction of a highway along the eastern coast of the Caspian Sea was discussed during the visit of Russian Prime Minister Mikhail Mishustin and Khusnullin to Ashgabat in January.
Meanwhile, construction of a highway along the Caspian coast on the route Turkmenbashi–Garabogaz–the border of Kazakhstan and related infrastructure facilities was discussed by the government of Turkmenistan. The project was on the agenda of a government meeting last Friday (17 March).
At a meeting of the Cabinet of Ministers, President Serdar Berdimuhamedov noted the exceptional importance of laying a new highway Turkmenbashi–Garabogaz–the border of Kazakhstan, which will become part of the international North–South transport corridor and will significantly increase the trade, cargo and passenger traffic not only between the regions of the country, but also with neighboring countries, thereby contributing to the activation of international trade and economic relations.
The Turkmenbashi–Garabogaz–Kazakhstan border highway will be built by the Russian company Vozrozhdenie. In early March, the company's CEO Igor Bukato presented the drawings of the multi-lane highway to the chairman of the Halk Maslahaty Gurbanguly Berdimuhamedov. The highways will be equipped with surveillance cameras and a digital system.
According to the reports of the Eurasian Development Bank, the construction of the Turkmenbashi-Garabogaz–border highway with Kazakhstan is one of their priority projects of the North-South corridor.
The Bank estimates that a 225-kilometer highway and a 350-meter bridge over Garabogaz Bay will cost US $450 million. The project will be completed in 2029. It is expected that the highways will contribute to an increase in capacity and speed regime along the North-South corridor's Eastern Highway Route. ///nCa, 24 March 2023