Elvira Kadyrova
Last week, the CEO of the Russian Group of Design and construction companies "Vozrozhdenie" Igor Bukato briefed to President Serdar Berdimuhamedov on the implementation of the project for the construction of Garabogaz–Kazakhstan border road.
This highway is the section of the North-South transport corridor and a continuation of the Ashgabat-Turkmenbashi autobahn, which connects the international seaport of Turkmenbashi on the Caspian coast and various infrastructure facilities.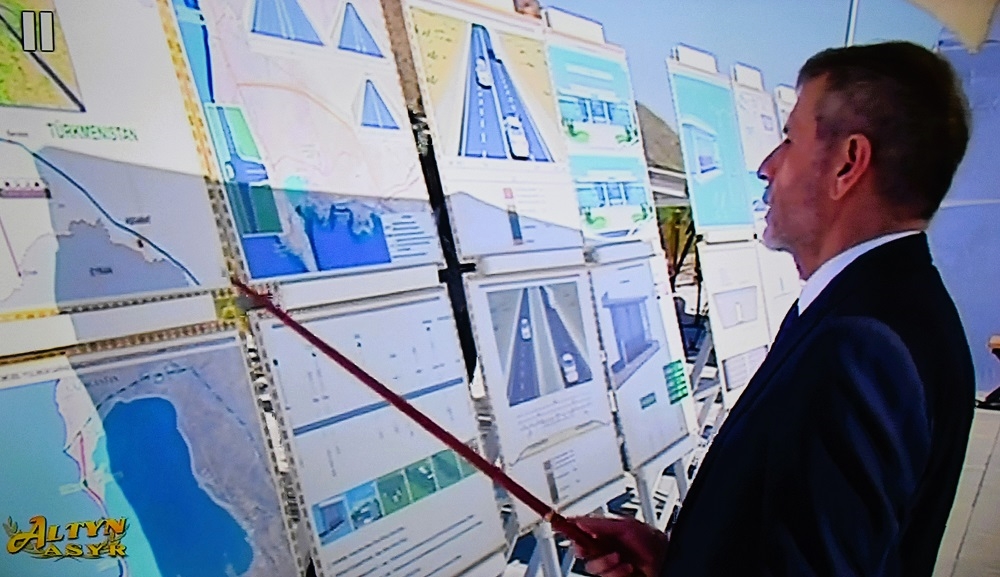 Bokato showed drawings of the location of service facilities, types of bus stops, samples of lighting system supports and conventional road signs, schemes of their location.
A couple of years ago, Vozrozhdenie expressed its readiness to intensify the development of the North–South international transport corridor.
Turkmenistan has also repeatedly voiced the idea for the switching its Turkmenbashi port to the North-South corridor framework. Turkmenistan's engagement in this corridor will strengthen the country's position as one of the key hubs of international trade, facilitating high-speed transit of goods through its territory.
The role of Turkmenistan in the North-South corridor was discussed recently in Tatarstan at a meeting of the country's former president, now the head of the upper house of parliament, Gurbanguly Berdimuhamedov with the Russian minister of economic development Maxim Reshetnikov.
"The eastern leg of this project will involve the infrastructure located on the territory of Turkmenistan, which means that there are opportunities to increase mutual supplies and ensure saturation of the markets of our countries with necessary goods," Reshetnikov said.
Western sanctions have seriously undermined the Russian logistics chains. This forced Russia to chase new external logistics corridors and brisk up its efforts to promote existing routes. According to recent statements by the Russian transport minister, the international transport corridor North – South is also considered as an alternative.
Obviously, the sanctions will be long-lasting. With this in mind, Moscow accords strategic importance to turnaround and focus on Asian markets. The North-South corridor is more relevant for Russia today than ever before, because it opens up time-effective, and therefore low-cost connectivity to the markets of South Asia and the Persian Gulf.
Coupled with the Caspian routes connecting Iran and Russia, the eastern land branch of the North-South corridor via the territory of Turkmenistan will enhance the commercial attractiveness of the corridor and increase its capacity.///nСa, 22 May 2022 [Photo source – Turkmen TV screenshots]