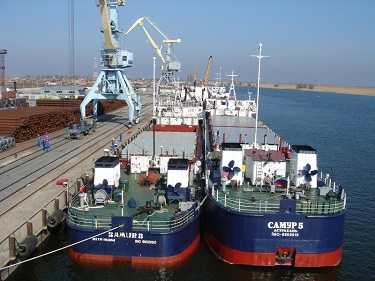 The organization of regular marine freight service between the port of Turkmenbashi and Russian ports on the Caspian Sea was discussed on Tuesday, 17 January in Astrakhan, TASS reports.
The negotiation brought together representatives of Kyrgyzstan, Uzbekistan and Turkmenistan.
According to the Chairman of the Government of the Astrakhan region Denis Afanasyev, regular sea transportation will contribute to the economic growth of all participating countries.
He recalled that the prospects for the development of a new international multimodal corridor to Russia through the Caspian Sea, the land part of which will run from Kyrgyzstan via Uzbekistan to the seaport of Turkmenbashi, have already been discussed.
Onward, it is proposed to transport cargo by sea to Russian ports.
The head of the Department of Road and Rail Transport of the Ministry of Transport and Communications of Kyrgyzstan, Adylbek Akmatov, stressed the interest of Kyrgyz road carriers in launching this route.
"The issue of cargo transportation and increasing the need for the number of ferries to the Caspian Sea is also being discussed. We can supply about 50 vehicles for ferry transportation every day," Akmatov added.
In turn, the deputy chairman of the agency "Turkmendenizderyayollary" (Turkmen sea and river routes) of the Agency of Transport and Communications under the Cabinet of Ministers of Turkmenistan Seyitguly Bayseyidov expressed Turkmenistan's readiness to provide preferential priority tariffs in the seaport of Turkmenbashi.
Also, according to him, the authorities of Turkmenistan are ready to attract their shipping companies to increase cargo traffic in the direction of Astrakhan-Turkmenbashi.
In December 2022, Minister of Transport and Communications of the Kyrgyz Republic Tilek Tekebayev paid a visit to Turkmenistan. He also visited the port of Turkmenbashi, where he met with the Chairman of the agency "Turkmendenizderyayollary" Annadurdy Kosayev. The parties discussed the possibilities of a transport route that will stretch from Kyrgyzstan through Uzbekistan, to the port of Turkmenbashi and to the Russian port of Astrakhan. ///nCa, 17 January 2023