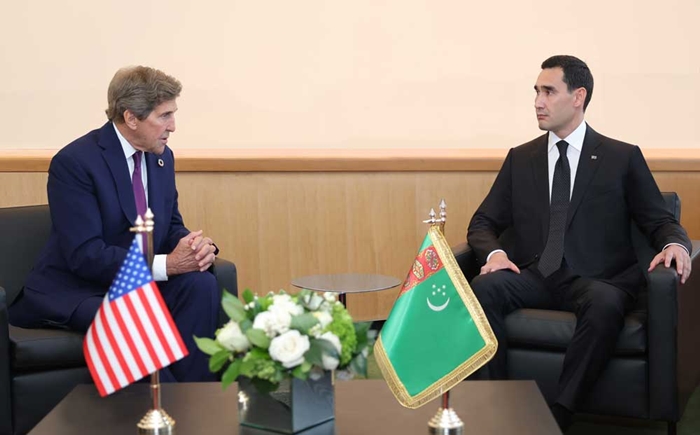 On 19 September 2023, in New York, President of Turkmenistan Serdar Berdimuhamedov met with the US Special Presidential Envoy on Climate John Kerry.
The sides exchanged views on priority environmental aspects, emphasizing that climate change is one of the integral components of achieving the Sustainable Development Goals.
They also noted that this topic was the subject of a thorough discussion during a telephone conversation between them in May 2023.
President Serdar Berdimuhamedov highlighted Turkmenistan's strategy on transitioning to a "green" economy aimed at widespread introduction of advanced environmentally friendly resource-saving technologies in various industries.
He also mentioned Turkmenistan's initiative to establish a Regional Center for technologies related to Climate Change in Central Asia under the auspices of the United Nations. This specialized structure is intended to become a platform for cooperation in the field of adaptation to climate change and mitigation of climate change impact.
Special Envoy Kerry highly appreciated Turkmenistan's contribution to solving urgent environmental problems.
At the end of the meeting, the parties expressed confidence that fruitful interstate cooperation will continue to develop successfully, gaining new content.
President of Turkmenistan wraps up visit to New York
On September 20, President of Turkmenistan Serdar Berdimuhamedov, having completed a working visit to New York, returned to Ashgabat.
On the last day of his visit to the United States, the head of Turkmenistan met with the Special Representative of the US President on Climate, John Kerry.
Then President Serdar Berdimuhamedov took part in an official reception on behalf of the US President on the occasion of the 78th session of the UN General Assembly at the Metropolitan Museum of Art.///nCa, 21 September 2023
#USA, #Turkmenistan, #SerdarBerdimuhamedov, #JohnKerry, #climate