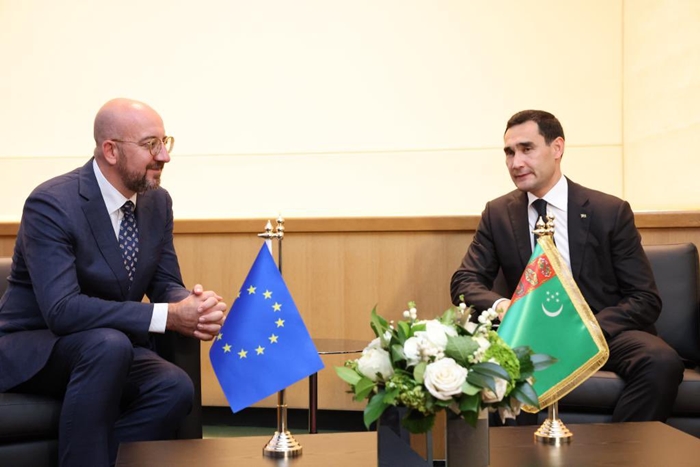 On 18 September 2023, President of Turkmenistan Serdar Berdimuhamedov met with President of the European Union Charles Michel in New York.
President Berdimuhamedov noted that Turkmenistan attaches great importance to strengthening friendly ties and constructive dialogue with the EU, which is expanding every year and covering new areas of cooperation.
He emphasized Turkmenistan's successful cooperation with the EU in both a bilateral format and within the framework of the European Union-Central Asia Dialogue.
He also noted that the EU is a long-standing partner of Turkmenistan in the implementation of a number of specialized projects and programs aimed at solving priority tasks of further economic and social development of the country, including in the field of legislation, education, information and communication technologies, agriculture and water management, and environmental protection.
President Berdimuhamedov also noted that leading European companies are currently represented in many sectors of the Turkmen economy, including the oil and gas complex, transport, electric power, construction, and communications.
During the conversation, the sides exchanged of views on the prospects for further cooperation in the context of its key aspects and the existing diverse potential.
"Spoke with Turkmenistan's President Serdar Berdimuhamedov at #UNGA78. Discussed the need to intensify our dialogue across all areas and to open the way to deepen our bilateral relations in the run up to next year's Central Asia summit", wrote on his twitter Charles Michel. ///nCa, 19 September 2023
#CharlesMichel, #EU, #Turkmenistan, #President_Serdar_Berdimuhamedov