On Wednesday, 31 May, on the second day of his working visit to Iran, the National Leader of the Turkmen people, Chairman of the Halk Maslahaty of Turkmenistan Gurbanguly Berdimuhamedov visited the Mapna Group industrial complex and met with the Supreme Leader of Iran.
Visit to the Mapna Group industrial complex
The Mapna Group industrial complex unites 77 companies of various specializations. These are the design and construction of energy facilities, renewable energy sources, development and implementation of oil and gas, railway and other industrial projects, including specialized infrastructure, production of main and auxiliary equipment, gas and steam turbines, combined installations for electricity generation, desalination of water, as well as locomotives for railway rolling stock, etc.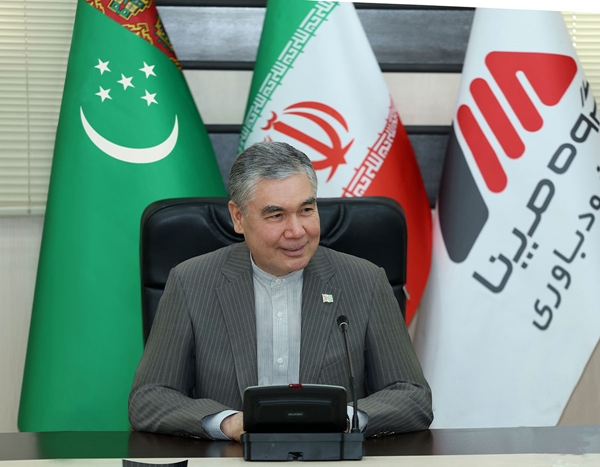 In addition, the group's companies provide operation and maintenance services and engaged in the electrification of transport systems, including the production of electric vehicles and the construction of charging stations for them.
During the negotiations with representatives of the industrial complex, issues related to the implementation of joint projects in the field of petrochemical industry and electric power were discussed. The Mapna Group expressed readiness to develop close cooperation with Turkmenistan in this area.
Then Gurbanguly Berdimuhamedov got acquainted with the exhibition of products produced by the Iranian industrial complex. In particular, the expo featured the samples of various types of equipment, models of "smart" houses, trains, as well as cars, etc.
Meeting with Supreme Leader of Iran Ayatollah Ali Khamenei
During the meeting with Gurbanguly Berdimuhamedov, Supreme Leader of Iran Ayatollah Seyyed Ali Khamenei said that Iran is ready to develop relations with Turkmenistan in various fields, including transport and energy.
Khamenei stressed that the cultural communities shared by Iran and Turkmenistan are an important basis for further expansion of relations in various sectors.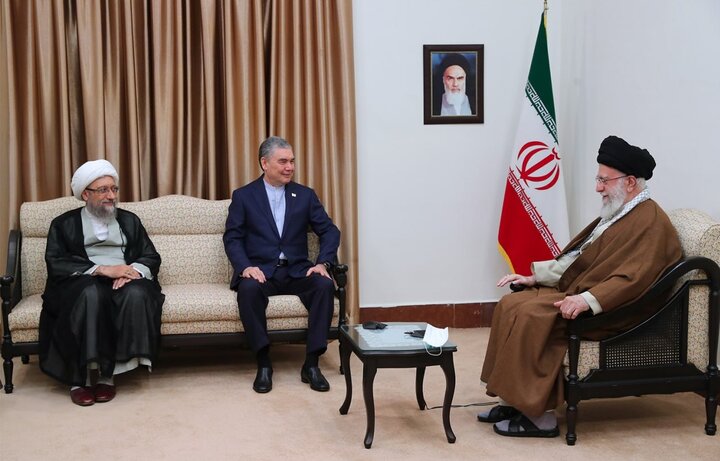 "In the field of commercial issues, there are more potential to expand cooperation, especially in the road sector and areas related to water, electricity and gas. The Islamic Republic of Iran is ready to cooperate in these sectors," he added.
Touching upon the cooperation in the field of transport, Khamenei noted: "Considering the important position of land and rail communications in the global economy, we are determined to complete the North-South transit corridor that can link Turkmenistan and its surrounding countries to the Oman Sea."
It was stressed that the long-term Turkmen-Iranian partnership is diverse and close. As Arkadag noted, Turkmenistan attaches special importance to the development of fraternal relations with Iran, which is one of the country's main partners.
At the conclusion of the meeting, the National Leader of the Turkmen people invited Ayatollah Ali Khamenei to visit Turkmenistan at a convenient time for him.
The meeting was also attended by the Chairman of the Expediency Council Sadegh Amoli Larijani.
Ogulgerek Berdimuhamedov visited the sights of Tehran
The spouse of the National Leader of the Turkmen people, Chairman of the Halk Maslahaty of Turkmenistan Ogulgerek Berdimuhamedova on Wednesday, 31 May 31, visited the National Museum of Jewelry and the Carpet Museum of Iran.
***
Completing the working visit, the National Leader of the Turkmen people Gurbanguly Berdimuhamedov returned to Turkmenistan. ///nCa, 1 June 2023 [photo credit – TDH, Mehr News]
#Turkmenistan, #Iran, #Arkadag_Berdimuhamedov, #Ayatollah_Khamenei