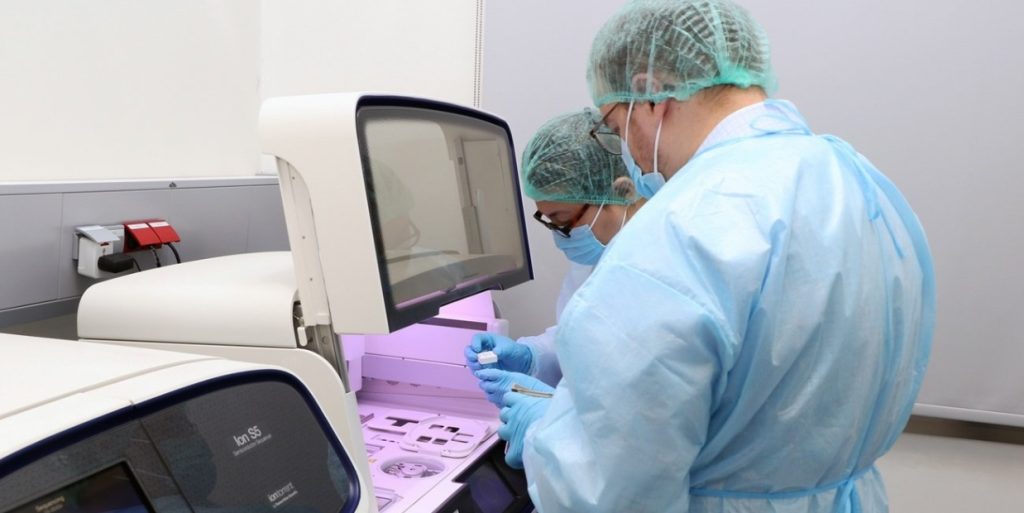 With support from WHO/Europe, for the first time, genomic sequencing is now being used in Turkmenistan to rapidly detect influenza viruses and determine if current influenza vaccines are efficient, respond accordingly and, ultimately, save lives and protect people from severe respiratory infections.
Recently, WHO/Europe organized training for laboratory specialists in Turkmenistan on genomic sequencing of influenza A viruses circulating in the country. Influenza A viruses circulate among all age-groups and particularly in children of school-age, but usually cause severe disease mostly in older people and those with chronic conditions.
The laboratory specialists learned how to use next-generation sequencing – a technology that can determine the sequence of a genetic code of a virus in a matter of hours or days. They also learned how to analyse the sequencing data.
Sharing influenza data
As a result of the training, the laboratory specialists carried out entire genomic sequencing of 10 samples of influenza A virus subtype H3N2, which is a seasonal influenza virus, and made the data available via the Global Initiative on Sharing All Influenza Data (GISAID) platform – an initiative that promotes the rapid sharing of data from all influenza viruses as well as SARS-CoV-2, respiratory syncytial virus (RSV) and some other pathogens.
"The knowledge and skills learned from this training as well as previous trainings carried out by WHO/Europe on genome sequencing will help build Turkmenistan's capacity in next-generation sequencing methods and in the genetic analysis of influenza viruses," said Artem Fadeyev, training coordinator and WHO/Europe consultant.
"The use of genome sequencing is one of WHO/Europe's recommendations for Turkmenistan to strengthen its health care system so that it can better prevent and mitigate against pandemics. We will continue to support the work of the Ministry of Health and Medical Industry of Turkmenistan on pandemic influenza preparedness," said Dr Egor Zaitsev, WHO Representative in Turkmenistan.
Building surveillance capacity
The training was part of the roll-out of Turkmenistan's Pandemic Influenza Preparedness (PIP) Framework. It took place in February 2023 at the Virological Reference Laboratory (VRL) of the Center for Public Health and Nutrition of the State Sanitary and Epidemiological Service (SSES) of the Ministry of Health and Medical Industry of Turkmenistan (MoHMIT) in Ashgabat.
WHO/Europe, the WHO Country Office in Turkmenistan and MoHMIT have worked closely together over the past years to strengthen Turkmenistan's sequencing capacity. This has included: developing a national strategy and action plan on genome sequencing; providing opportunities for laboratory specialists to benefit from WHO/Europe sequencing training; and designating the VRL of the Center for Public Health and Nutrition of the SSES of the MoHMIT as the National Influenza Center recognized by WHO. 
"These activities will help build domestic surveillance capacity rapidly, strengthen the early detection of pathogens with pandemic and epidemic potential, and ensure that Turkmenistan's health care system is well-equipped to respond to future public health emergencies," said Dr Ayjeren Myratdurdyyeva, technical specialist at the WHO Country Office in Turkmenistan.  ///WHO/Europe, 10 March 2023