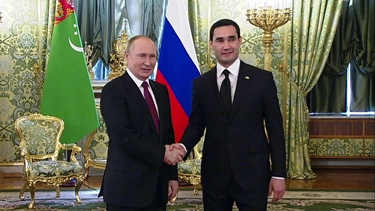 On 22 September 2023, President of Turkmenistan Serdar Berdimuhamedov and President of the Russian Federation Vladimir Putin held a telephone conversation.
Putin congratulated Berdimuhamedov on his birthday and noted that the Russian Federation highly appreciates his efforts to strengthen the traditionally constructive interstate dialogue.
The two sides "reaffirmed their mutual resolve to continue to develop comprehensive relations between Russia and Turkmenistan in the spirit of a deep strategic partnership", Kremlin's press service says.
In turn, head of Turkmenistan expressed gratitude to President Putin for the warm congratulations and stated that today the partnership between Turkmenistan and the Russian Federation is at a high level and is developing on a wide range, based on long-standing ties of friendship, trust and mutual understanding.
Earlier, Vladimir Putin sent a congratulatory telegram to Serdar Berdimuhamedov.
"I hope that we will continue our constructive dialogue and close cooperation on the current aspects of issues on the bilateral and international agenda to the benefit of our friendly nations and in the interests of security and stability in Central Asia and the Caspian region," the message reads. ///nCa, 22 September 2023
#VladimirPutin, #SerdarBerdimuhamedov, #Turkmen-Russian_relations