On Friday, 1 September, the National Leader of the Turkmen people, Chairman of the Halk Maslahaty of Turkmenistan Gurbanguly Berdimuhamedov met with the President of the Eurasian Equestrian Association Marina Sechina.
Sechina stressed that it is a great honor for her to present an Honorary Certificate of the Eurasian Equestrian Association to the Aba Annayev International Academy of Horse Breeding in Turkmenistan.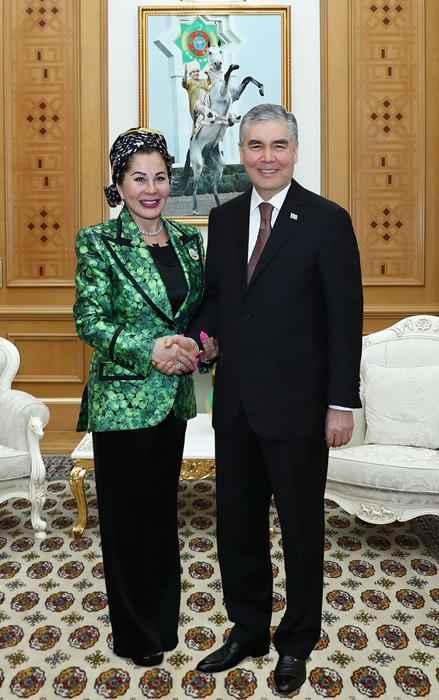 Arkadag thanked the head of the Eurasian Equestrian Association for participating in the celebrations in honor of the Day of Knowledge and Student Youth, noting that the traditional relations between Turkmenistan and Russia are based on the principles of friendship, trust and mutual respect.
Cooperation in trade, economic, energy and other areas is also actively developing. Special importance is attached to the inter-parliamentary partnership.
Gurbanguly Berdimuhamedov said that the two countries have great potential for cooperation in the field of horse breeding and equestrian sports. He noted that there are many opportunities for development in this direction, including in organizing competitions and training athletes. Arkadag stressed the importance of sharing experience in this area.
The importance of establishing ties between the Equestrian Federation of Russia and Turkmen horse breeders was also emphasized. In this regard, Turkmenistan shows willingness to support the proposed initiatives in this area./// nCa, 4 September 2023 [photo credit – TDH]
#Turkmenistan, #Russia, #horsebreeding, #Eurasian_Equestrian_Association, #turkmen-russian_relations