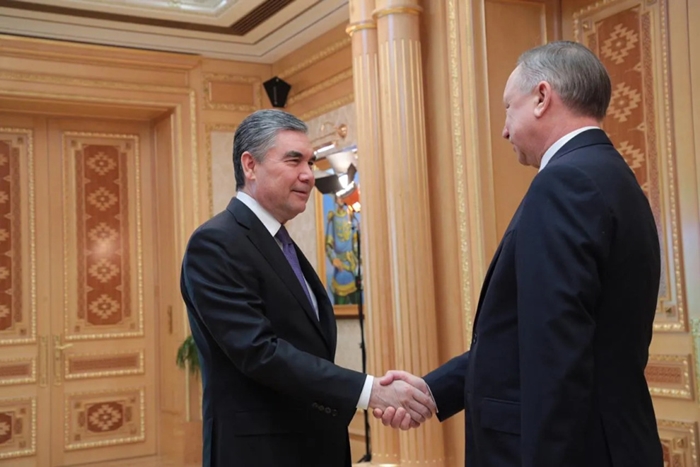 Cooperation between St. Petersburg and Turkmenistan has reached a high and trusting level, said Governor Alexander Beglov during the meeting with the national leader of the Turkmen people, Chairman of the Halk Maslahaty of Turkmenistan Gurbanguly Berdimuhamedov, the press service of the administration of St. Petersburg reports.
The meeting took place today, on 11 September, during Beglov's official visit to Ashgabat at the head of the delegation of St. Petersburg.
"The Government of St. Petersburg is aware of the political and economic importance of relations with Turkmenistan. We consider them a priority in international activities. Our contacts fully correspond to the policy of deepening strategic partnership pursued by the Presidents of our countries," he stressed.
The Governor noted that St. Petersburg plays a vital role in Russian-Turkmen relations, and that cooperation between the Northern Capital and Turkmenistan have reached a high and mutually beneficial level thanks to Gurbanguly Berdimuhamedov.
The development of relations is facilitated by projects of trade, economic, humanitarian and social cooperation, as well as exchanges of visits of delegations.
He also recalled the participation of high-ranking Turkmen delegations in such major events as the St. Petersburg International Economic Forum, the Nevsky International Environmental Congress.
In October in the Legislative Assembly of St.Petersburg will host the presentation of Gurbanguly Berdimuhamedov's book "The Meaning of my Life".
"We highly appreciate the attention paid in Turkmenistan to preserving the memory of the Great Patriotic War. This month, the Museum of the Defense and Blockade of Leningrad will host a cultural and educational event "Turkmens in defense of Leningrad," Alexander Beglov stressed.
The National leader of the Turkmen people and Beglov also discussed the development of cooperation between St. Petersburg and Turkmenistan in various fields.
According to the Governor, trade and economic cooperation between St. Petersburg and Turkmenistan has enormous potential, but cultural ties are no less important.
The issue of the construction of a monument to Magtymguly Fragi, a famous Turkmen poet and philosopher, in St. Petersburg has been finalized, he said. Together with representatives of the Ministry of Culture of Turkmenistan, a place has been chosen for the monument in the historical center of the city.
Today Beglov also met with President of Turkmenistan Serdar Berdimuhamedov. ///nCa, 11 September 2023
#Turkmen-Russian_relations, #StPetersburg, #Turkmenistan, #Russia, #ArkadagBerdimuhamedov