On Wednesday, 24 May, President Serdar Berdimuhamedov received the newly appointed Ambassador of the Russian Federation to Turkmenistan Ivan Volynkin, who presented credentials to the head of state.
The Ambassador conveyed greetings from the President Vladimir Putin to the President of Turkmenistan. At the same time, Russia's commitment to traditionally friendly, good-neighborly relations with Turkmenistan was confirmed.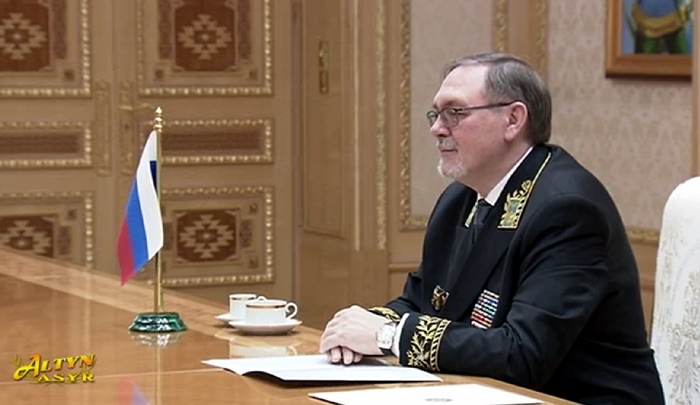 Having conveyed his greetings to Putin, Serdar Berdimuhamedov underlined that relations between the two nations, based on long-standing ties of friendship, trust, and mutual understanding, are successfully advancing in different directions at the present.
During the meeting, it was highlighted that the political dialogue between Turkmenistan and Russia is progressing rapidly, that high-level visits are conducted, and that frequent contacts are maintained through ministries and departments. Parliamentary cooperation is expanding, inter-ministerial consultations are being held consistently.
Turkmenistan and Russia cooperate constructively both in a bilateral format and within the framework of international and regional organizations.
In this context, President Serdar Berdimuhamedov expressed gratitude to Russia for the constant support of the country's neutral foreign policy of the and its international initiatives.
The sides mentioned the trade and economic relations as priority area of Turkmen-Russian cooperation.
Russia is among the leading trade partners of Turkmenistan. Cooperation is developing in the oil and gas sector, automotive industry, shipbuilding, aviation transport, gas chemical industry and other sectors.
At the same time, direct trade and economic ties between Turkmenistan and the Russian regions, including Tatarstan, the city of St. Petersburg, and the Astrakhan region, are actively developing.
The bilateral Intergovernmental Commission plays an important role in the practical implementation of the agreements reached.
At the end of the meeting, Ambassador Volynkin pledged that he would do everything in his power to advance the growth of the strategic cooperation between Turkmenistan and Russia. ///nCa, 25 May 2023