Kazakhstan proposes to consider the possibility of joint investments in the construction of infrastructure in the sea and dry ports of Iran and Turkmenistan. This was stated by the President of Kazakhstan Kassym-Jomart Tokayev, addressing on Thursday, 25 May at a meeting of the Supreme Eurasian Economic Council in Moscow.
According to Tokayev, such investments will significantly expand the geography of exports of the member states of the Eurasian Economic Union (EAEU), strengthen the logistics capabilities of the organization's member countries.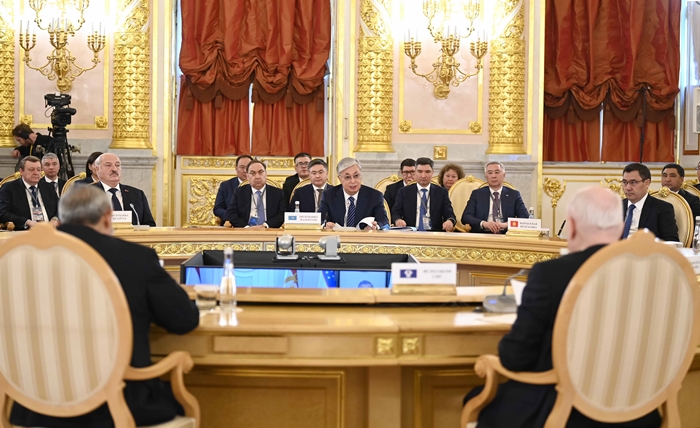 The President of Kazakhstan expressed confidence that the EAEU will eventually become a link between Europe and Asia, the global South and the North.
"We welcome the intentions of the Russian Federation to form corridors in the direction of China, India, Pakistan, Iran, the states of the Middle East and Southeast Asia," he stressed.
At the same time, Tokayev pointed out the need to develop the North–South transport corridor in conjunction with the Trans-Caspian route. In this regard, Kazakhstan will act as a reliable logistics hub of the Eurasian Economic Union, using all its capabilities and resources.
In this context, the head of Kazakhstan proposed to launch high–speed freight trains along the Chelyabinsk–Bolashak–Iran railway with a length of 2,873 kilometers [the Bolashak-Iran section transits through the territory of Turkmenistan. Ed].
Tokayev also announced Kazakhstan's readiness to reconstruct bottlenecks in the Beineu– Mangistau internal railway network and on the Beineu–Shalkar highway section.
"The construction of the Bakhty–Ayagoz railway is intended to be a good example of our mutually beneficial cooperation. Its launch will significantly increase the capacity of both Kazakhstan and Russia in the direction of China," he said.
***
The Supreme Eurasian Economic Council is the supreme body of the Eurasian Economic Union. The current meeting, chaired by Russian President Putin, was attended by President of Belarus Alexander Lukashenko, President of Kazakhstan Kassym-Jomart Tokayev, President of Kyrgyzstan Sadyr Zhaparov, Prime Minister of Armenia Nikol Pashinyan.
In an expanded format, President of Uzbekistan Shavkat Mirziyoyev, Azerbaijani President Ilham Aliyev and Tajik President Emomali Rahmon joined the meeting via video link.
The meeting was also attended by CIS Executive Secretary Sergey Lebedev and SCO Secretary General Zhang Ming.
A video message to the participants of the meeting was sent by Cuban President Miguel Diaz-Canel Bermudez.
The International Integration Economic Association of the EAEU was created on the basis of the Customs Union and the Single Economic Space, it has been operating since 1 January 2015. ///nCa, 26 May 2023