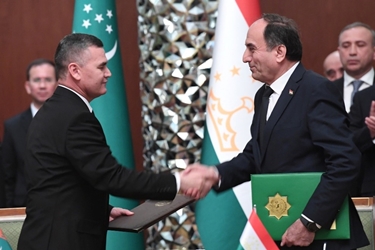 On 10 May 2023 in Dushanbe, following the summit talks between the Presidents of Tajikistan and Turkmenistan, 24 documents on cooperation were signed, two of which relate to the transport sector.
The joint program ("Roadmap") for further expansion of cooperation in the field of increasing cargo traffic and activating multimodal transport between Tajikistan and Turkmenistan for 2023-2025 was signed by the Minister of Transport of Tajikistan Azim Ibrohim and the Director General of the Agency for Transport and Communications under the Cabinet of Ministers of Turkmenistan Mametkhan Chakyev. The Ministry of Transport of Tajikistan has issued a press release revealing some details of future cooperation between Turkmenistan and Tajikistan in the transport sector.
The Roadmap, in particular, envisages the following:
creation of favorable conditions, including the application of tariff preferences, to increase the rail freight traffic between the enterprise "Turkmendemiryollary" ("Turkmen Railways") and the State Unitary Enterprise "Roҳi oҳani toҷikiston" ("Tajik Railway");

expert meetings and appointment of responsible national logistics operators on the organization of container transportation on the route Turkmenistan-Uzbekistan – Tajikistan – China border;

exploring possibilities of organizing an international container train on the route Tajikistan – Europe, transit through Turkmenistan;

exploring the possibility of developing an end-to-end logistics service in order to increase the export-import cargo transportation by rail and sea;

attraction of transport and logistics companies to use the potential and services of the Turkmenbashi International Seaport;

providing favorable conditions for owners, carriers and forwarding companies in the organization of international transportation.
Another document, the Memorandum on the Development of International Transport, focuses on the opportunities for the development of international transport corridors.
The parties intend to prioritize the development of direct economic relations between transport agencies in both countries, according to the Memorandum. The MoU emphasizes the significance of increasing efficiency and developing new international transportation corridors, such as the multimodal corridor China-Tajikistan-Uzbekistan-Turkmenistan-Iran-Turkey.
As the Minister of Transport of Tajikistan Azim Ibrohim told earlier, "the use of the corridor is effective in terms of reducing distances and reducing freight transportation costs compared to existing corridors. The advantage of this corridor is the connection of Tajikistan with China via the highway, which contributes to the revival of the Great Silk Road and regional economic integration."
***
It should also be noted that in Dushanbe, during negotiations with President Emomali Rahmon, President Serdar Berdimuhamedov highlighted the transport sector as an absolute priority of Turkmen-Tajik cooperation.
He stressed Turkmenistan's willingness to discuss the use of the capacities of the Turkmenbashi International Seaport in the interests of Tajikistan on favorable terms.
"The states of our region, which do not have direct access to the World Ocean, need to maximize the possibilities of the port infrastructure of the eastern Caspian Sea to enter world markets," the President of Turkmenistan said. ///nCa, 17 May 2023