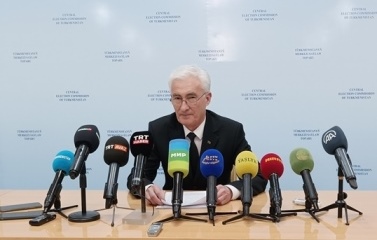 The chairman of the election commission commission of Turkmenistan, Gulmurat Muradov told the media on 27 March 2023 that the results of the parliamentary election held yesterday could be expected within three or four days.
Addressing the packed room of journalists, Muradov said that counting of the votes had started immediately after the closing of the polls yesterday.
He said that the election commission has been working round the clock for the last one month to facilitate the candidates, the electorate, and the entire process of conducting the elections.
He thanked the observer missions of the international and regional organizations and friendly countries for their engagement with the elections process. He also thanked the media.
After the press conference of the chairman of the election commission of Turkmenistan, the heads of the observer missions of the CIS, SCO also held their own press briefings, expressing satisfaction at the open and transparent manner in which the elections had been held. /// nCa, 27 March 2023