On 9 March 2023, President of Tajikistan Emomali Rahmon received Deputy Chairman of the Cabinet of Ministers, Minister of Foreign Affairs of Turkmenistan Rashid Meredov, who was on a working visit to Dushanbe.
During the meeting, a wide range of issues of cooperation between the two countries were discussed.
According to the press service of the President of Tajikistan, it was proposed to brisk up the activities of the bilateral intergovernmental commission on trade, economic, scientific and technical cooperation, the activities of the Trade Council.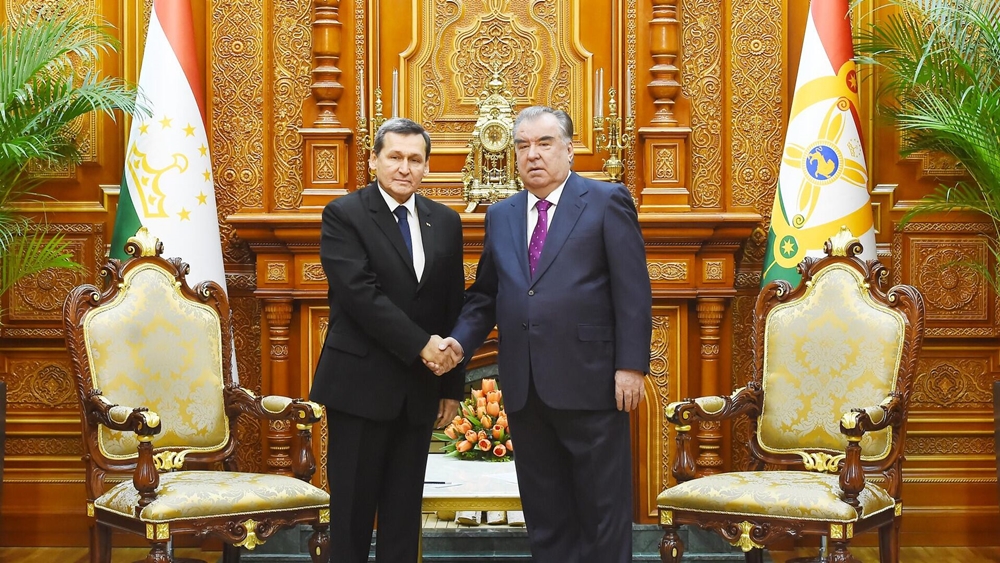 The development and expansion of cooperation in the fields of transport and cargo transportation, the creation of industrial enterprises and the use of transport corridors of Turkmenistan were identified as promising areas of cooperation between the two countries.
The sides showed the willingness  to intensify inter-parliamentary ties. They underlined the need for holding joint international scientific and practical conferences, festivals, symposiums.
They also discussed the state of cooperation between the two countries through major international organizations, including the UN, the CIS, the International Fund for Saving the Aral Sea, consultative meetings of the heads of Central Asian states, as well as other important issues on the international and regional agenda.
In conclusion, the parties considered the schedule of upcoming bilateral meetings and conversations.
***
Within the framework of the visit, the Turkmen delegation in Dushanbe held a number of meetings in relevant ministries and departments of Tajikistan.
Also, as part of its visit, the delegation of Turkmenistan made a working trip to the Khatlon region of Tajikistan.
Turkmenistan intends to build a school for 540 students in the rural community of "Ergesh Sultanov" of the Dusti district in the Khatlon region. Dusti is home to a large Turkmen diaspora.///nCa, 10 March 2023