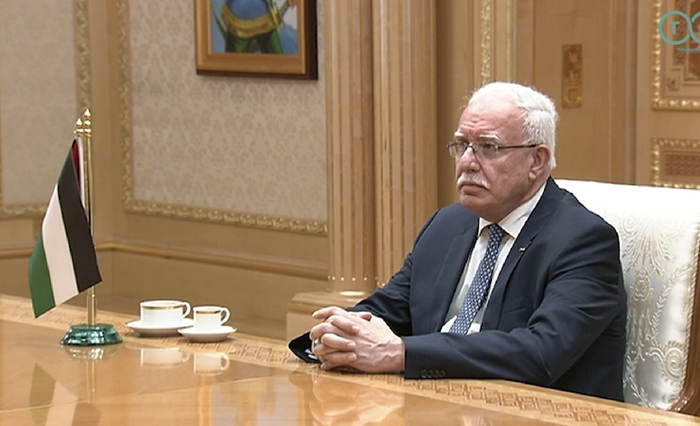 On Friday, 25 August 2023, President Serdar Berdimuhamedov received the Minister of Foreign Affairs of the State of Palestine and Expatriates, Riyadh al-Maliki, TDH reports.
The minister conveyed to the head of Turkmenistan an invitation from President Mahmoud Abbas to visit Palestine.
Al-Maliki confirmed his country's desire to further strengthen the traditional interstate dialogue with Turkmenistan.
In turn, President Serdar Berdimuhamedov expressed gratitude for the invitation to visit Palestine and noted that one of the priority vectors of Turkmenistan's foreign policy is the development of fruitful cooperation with the countries of the Middle East.
During the meeting, it was stressed that Turkmenistan and the State of Palestine also actively cooperate in a multilateral format, including within the framework of the UN, the Organization of Islamic Cooperation and other organizations. The similarity of the parties' positions on key international issues, such as peace and sustainable development, was noted. This creates favorable conditions for further cooperation in various areas.
In this regard, the head of Turkmenistan thanked the leadership of Palestine for the support of the status of permanent neutrality of Turkmenistan and its foreign policy.
The sides noted that there are wide opportunities for the development of mutually beneficial trade and economic partnership.
The humanitarian sphere is also an important component of Turkmen-Palestinian relations, with great emphasis placed on promoting fruitful cooperation in science, education, and culture.
For its part, Turkmenistan is ready to consider concrete proposals from Palestinian partners for further cooperation.
During his visit to Ashgabat, the Minister of Foreign Affairs and Expatriates of Palestine Riyadh al-Maliki, met with the National Leader of the Turkmen people Gurbanguly Berdimuhamedov and the Speaker of the Parliament of Turkmenistan. Foreign ministry of Turkmenistan hosted the Turkmen-Palestinian political consultations. Turkmenistan's Foreign Minister Rashid Meredov and Al-Maliki signed documents on bilateral cooperation.///nCa, 26 August 2023
#Turkmenistan, #Palestine