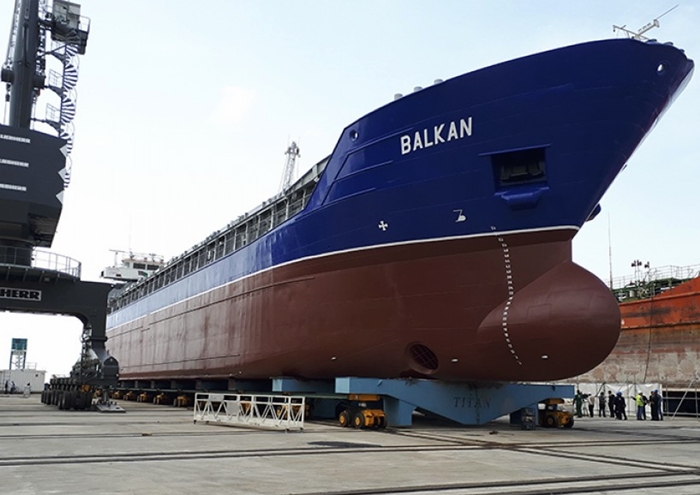 The Balkan Shipbuilding and Ship Repair Plant, located on the territory of the International Port of Turkmenbashi, is negotiating with leading companies of the Republic of Korea in order to implement shipbuilding projects, says the Agency of Marine and River Transport of Turkmenistan "Turkmendenizderyayollary".
In particular, Korean companies will supply equipment and materials for shipbuilding and carry out technical control during the construction of ships.
On 31 August 2023, the President of Turkmenistan signed a decree aimed at further development of the country's National Merchant Fleet. According to the Decree, Balkan shipyard will build two dry cargo vessels.
To date, dry cargo vessels of the national merchant fleet "Balkan", "Magtymguly" and "Turkmenistan" provide freight services to foreign ports. Dry cargo is mainly transported between the port of Turkmenbashi and the ports of Baku, Astrakhan, Aktau.
According to the Agency, there is currently a high demand for bulk carriers with a capacity of 5000-6000 tons.
Additionally, container feeder transportation is operated by the dry cargo ship Balkan on the Turkmenbashi-Baku-Turkmenbashi route.
In 2022, the Turkmenbashi seaport serviced 684 dry cargo vessels, 80% of which belong to foreign states, and 20% – to the national fleet of Turkmenistan.
Earlier, the Korea Marine Equipment Association KOMEA proposed to create a joint venture with the Turkmen shipbuilding plant "Balkan". From KOMEA's point of view, the promising areas of cooperation with Turkmenistan are the modernization of shipyards, personnel training, the introduction of technical know-how and the transfer of ship repair technologies.///nCa, 6 September 2023
#transport, #infrastructure, #Turkmen-Korean_relations, #Turkmenistan, #Korea, #shipyard_Balkan, #shipbuilding