In April, after a four-year break due to the pandemic, the Russian-Turkmen Margiana Archaeological Expedition, working on the basis of the Center for Anthropoecology of the Institute of Ethnology and Anthropology of the Russian Academy of Sciences, resumed its comprehensive research in Karakum, Institute of Ethnology and Anthropology said in a press release.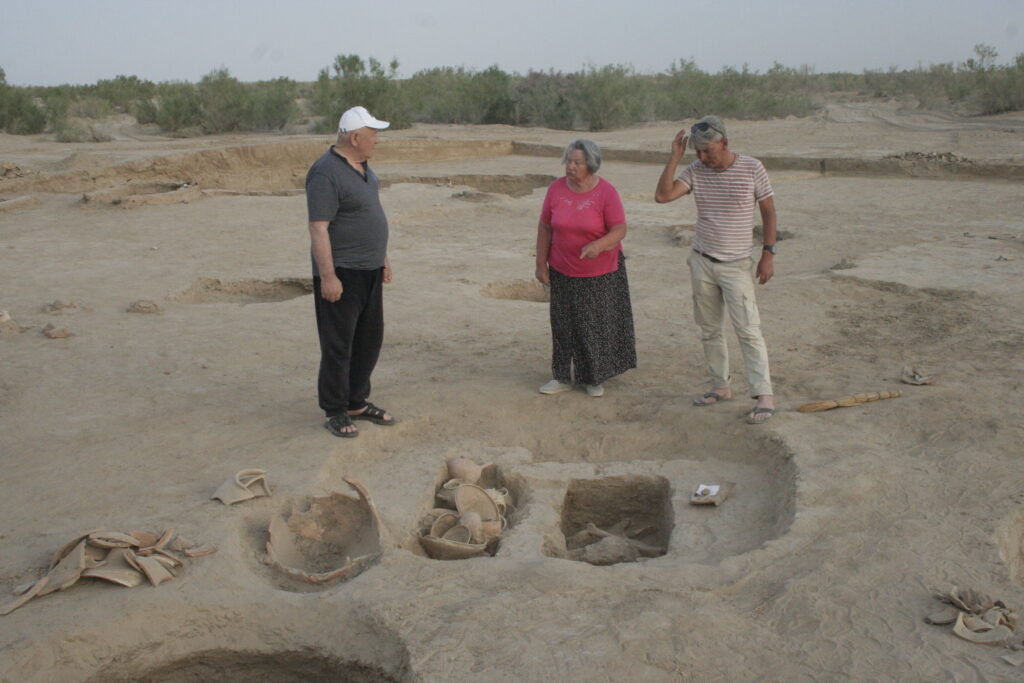 N.A. Dubova and A.V. Fribus (IIMC, right) during an excursion to Gonur-20
As in previous years, the field team included the employees of the Institute of the History of Material Culture of the Russian Academy of Sciences (St. Petersburg), the Institute of Mineralogy of the Russian Academy of Sciences (Mass, Chelyabinsk region) and colleagues from several scientific institutions and museums of Turkmenistan. All works are carried out within the framework of an agreement between the IEA RAS and the Ministry of Culture of Turkmenistan.
Archaeological excavations were carried out on two territories with a total area of more than 1,500 sq. m. to the south and southwest of the central complex of the famous Bronze Age monument Gonur-depe (Bayramali district of Mary province of Turkmenistan), paleoanthropological study of the collected bone remains from 31 burials was performed.
Exploration drilling has been carried out at the satellite settlements of Gonur-2 and Gonur-3, where it is planned to conduct research to determine the population density and specialization of settlements adjacent to the central temple city.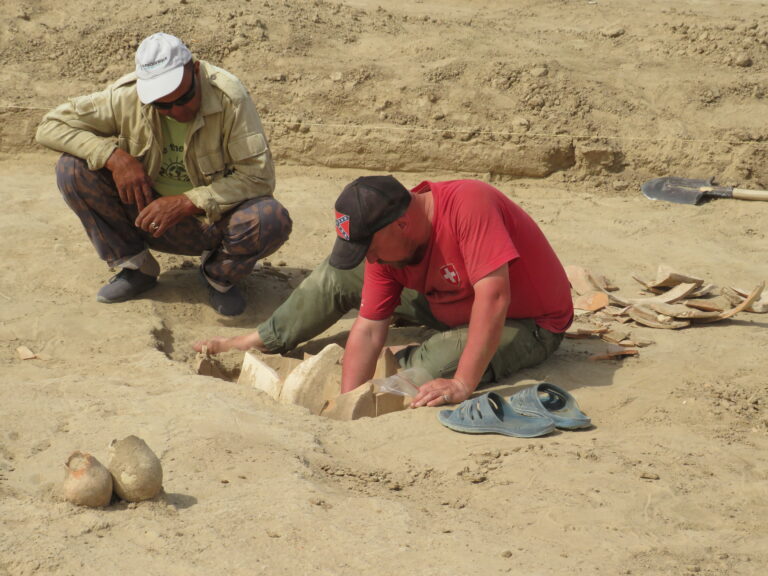 V.V. Kufterin during work
Mineralogical studies and the study of ancient metal production were implemented.
So, for example, if the monument has a diverse range of bronze alloy goods, samples of copper ore were discovered for the first time. Repair and conservation and restoration works have been carried out on the territory of the Gonur Palace and kremlin.
Gonur Palace and kremlin
The restoration of a unique painting composition found at Gonur-20 in 2019 and mosaic compositions from the "Royal Necropolis" of Gonur has continued at the Museum of Fine Arts of Turkmenistan in Ashgabat.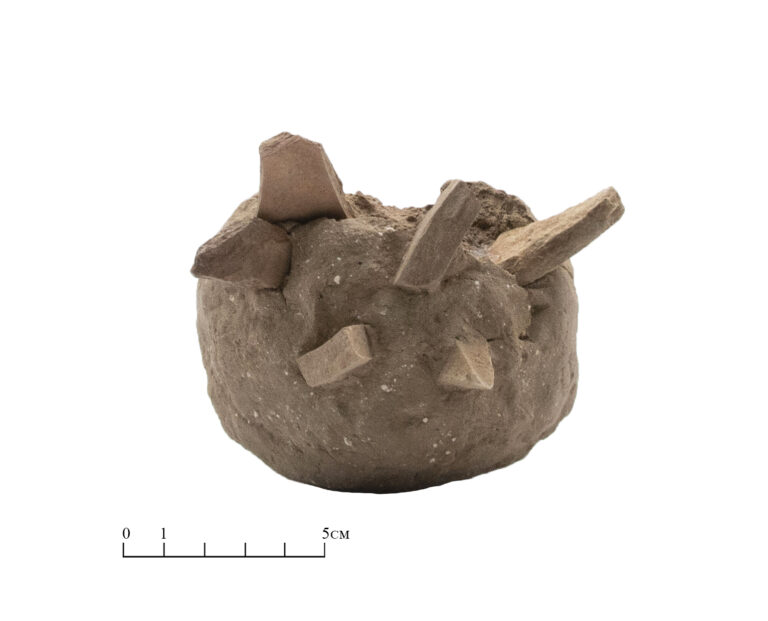 One of the clay "balls" from burial place 4626, Gonur-depe
The research shed light on the burial traditions of the ancient Margiana. Previously unknown types of graves have been identified and described, and grave structures have been excavated for the first time, which were not known in the previous 50-plus years of excavations on Gonur.
Large clay balls with various numbers of small ceramic fragments stuck in them with the tip up, a rich collection of chips and other game pieces (26 in all), a stone amulet-seal with a double-sided, intriguing image, a number of fragments of a ritual ceramic vessel with preserved frog-shaped stickers, snakes, and other animals were among the finds that attracted the most attention.
The monument is of great interest, it is visited by a large number of both local and foreign tourists. ///nCa, 31 May 2023
#Russia, #Turkmenistan, #Margiana, #archaeological_expedition, #Gonur-depe,