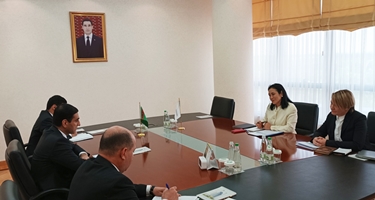 On May 29, 2023, the Acting Minister of Foreign Affairs of Turkmenistan Vepa Hajivev held talks with the Director of the Department for WTO Accession Division Ms.Maika Oshikawa, who is on a working visit to Ashgabat.
During the meeting, the parties discussed topical issues of enhancing cooperation concerning the process of Turkmenistan's accession to the WTO.
In this regard, it was emphasized that the Turkmen side had prepared and approved the Work Plan for 2023-2024 to expand cooperation with the WTO Secretariat, which includes practical steps in the this direction.
M.Oshikawa was acquainted with the plans of the Turkmen side to implement a large number of tasks to complete the preparatory measures for Turkmenistan's entry into the WTO. Thus, at present, Turkmenistan is actively working on the preparation of the Memorandum on the foreign trade regime, the surrender of which is one of the conditions for joining the WTO. Along with this, the consistent work of the interdepartmental Government Commission for the study of issues related to accession to the WTO was noted. Active work has also been established in this direction with the UN and its specialized agencies, international financial institutions such as the IDB and ADB.
At the end of the meeting, the parties expressed confidence that progress would be made in the work carried out in accordance with the plans for interaction between Turkmenistan and the World Trade Organization. ///MFA Turkmenistan, 29 May 2023