On Friday, 17 February, President Serdar Berdimuhamedov received Deputy Prime Minister of the Russian Federation Alexey Overchuk, TDH reports.
During the conversation, the President of Turkmenistan noted that the current visit of the Russian Deputy Prime Minister to Ashgabat is regarded as a logical continuation of the regular intergovernmental dialogue.

The head of state noted the effectiveness of the negotiations held during the official visit of the head of the Government of the Russian Federation to Turkmenistan in January this year.
Then the key directions of further Turkmen-Russian cooperation were identified, a solid package of documents was signed, and a joint business forum was held.
During the meeting, the sides exchanged views on priority issues of interstate cooperation. At the same time, the emphasized the need for the practical implementation of the reached agreements.
The constructive nature of Turkmen-Russian political dialogue, which is consistently strengthening both bilaterally and multilaterally, was highlighted in this context. Inter-parliamentary contacts are also actively pursued, aimed at enriching the content of interstate relations.
An important area of Turkmen-Russian cooperation is the trade and economic sphere. For many years, Russia has been one of Turkmenistan's leading trade partners. The mutual trade turnover maintains positive dynamics. Partnership is developing in the oil and gas sector, transport, industry and other sectors.
The necessity for optimal utilization of existing cooperation potential, diversification, and access to new important sectors for a systematic increase in the volume of mutual trade and investment, as well as the implementation of joint projects, was stressed in this regard. Turkmenistan, for its part, is ready to consider specific proposals from Russian partners.
***
On the same day, Overchuk met with the National Leader of the Turkmen people, Chairman of the Halk Maslahaty Gurbanguly Berdimuhamedov.
During the conversation, Arkadag noted good prospects for mutually beneficial partnership in the trade and economic sphere, transport and communication sector and logistics, in the agro-industrial complex. Along with this, in the light of modern realities, strengthening cooperation in the fields of water management and ecology is seen as relevant.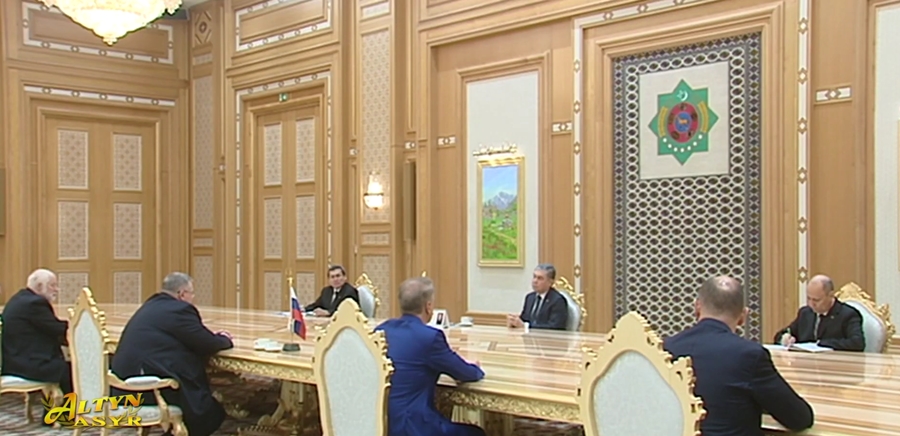 In the line of humanitarian cooperation, Chairman Halk Maslahaty focused on cooperation in the field of healthcare. He told about new projects in the field of healthcare, in particular about the planned construction of new medical facilities. Thus, there is a solid potential for building up the Turkmen-Russian partnership.
The Deputy Chairman of the Government of the Russian Federation thanked Gurbanguly Berdimuhamedov for his constant attention to the issues of bilateral cooperation. A good example of this is the recent joint business forum held in Ashgabat, which contributed to the establishment of close business contacts , it was highlighted that Russia is willing to enhance its current active partnership with Turkmenistan in a number of sectors, including the economy, trade, energy, and transportation.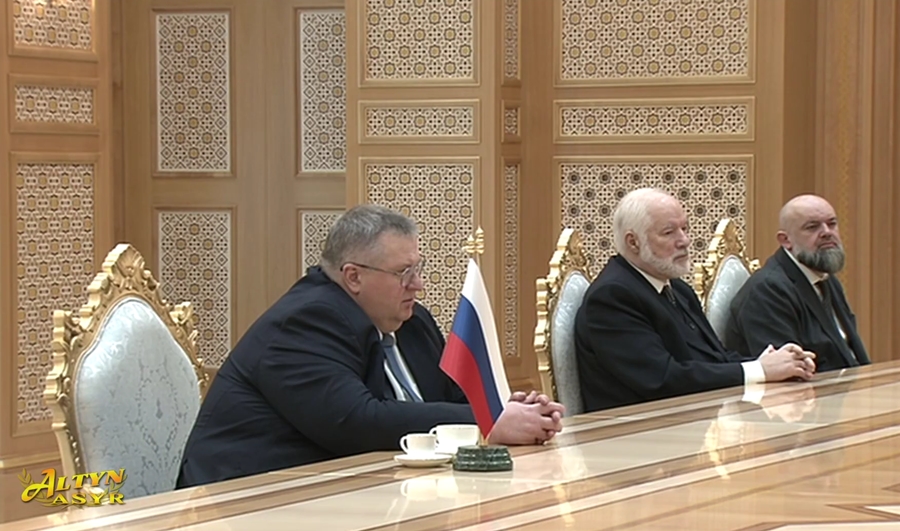 ***
On 19-20 January 2023, a Turkmen-Russian forum and negotiations between President of Turkmenistan Serdar Berdimuhamedov and Russian Prime Minister Mikhail Mishustin took place in Ashgabat. As a result of the talks, 10 documents were signed. On the sidelines of the forum, the business circles of the two countries stroke deals worth over US $ 2 billion. ///nCa, 18 February 2023 [Photo – Screenshots from Turkmen TV]