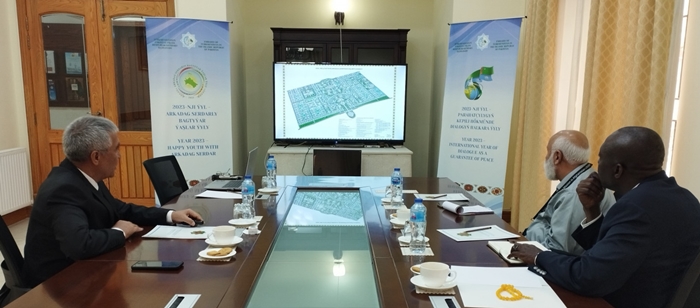 On May 23, 2023, a presentation on the developments in Turkmenistan and its foreign policy was given to the Head of UNAMA Liaison Office Islamabad Malick Ceesay at Turkmenistan Embassy in Islamabad.
The Ambassador of Turkmenistan to the Islamic Republic of Pakistan Atajan Movlamov highlighted the partnership of Neutral Turkmenistan with the UN and its relevant agencies aimed at ensuring peace and sustainable development in the region and the world. He recalled a number of internationally important resolutions of the UN General Assembly which were adopted on the initiatives of Turkmenistan. One of such important documents initiated by Turkmenistan is the UN General Assembly resolution, which was adopted on May 16, 2023 and proclaimed November 26 as a World Sustainable Transport Day.
Within the framework of the activities on the socio-economic development of Turkmenistan, particular attention was paid to the Arkadag City, which will operate on the concept of a "smart city" and is being built by the initiative of the National Leader of the Turkmen people, the Chairman of the Halk Maslahaty of Turkmenistan Gurbanguly Berdimuhamedov.
The guest was also informed on initiated by Turkmenistan strategically beneficial major regional energy projects, which are of great significance not only for the socio-economic prosperity of the participating countries but also for strengthening cooperation in the region.
Thanking for the delivered presentation, Malick Ceesay praised the strong UN – Turkmenistan partnership, the positive neutrality policy of Turkmenistan, and the quality of facilities in Arkadag city. He also underlined the importance of the implementation of large energy projects that will promote economic development and political stability in the region.///MFA Turkmenistan, 24 May 2023