On Wednesday, 24 May, President Serdar Berdimuhamedov received the newly appointed Ambassador of the United Kingdom of Great Britain and Northern Ireland to Turkmenistan Stephen Conlon, who presented credentials to the head of state.
At the beginning of the meeting, the diplomat conveyed greetings from King Charles III and Prime Minister of his country Rishi Sunak, noting the special importance attached by Great Britain to further strengthening the traditional ties of friendship and cooperation with Turkmenistan.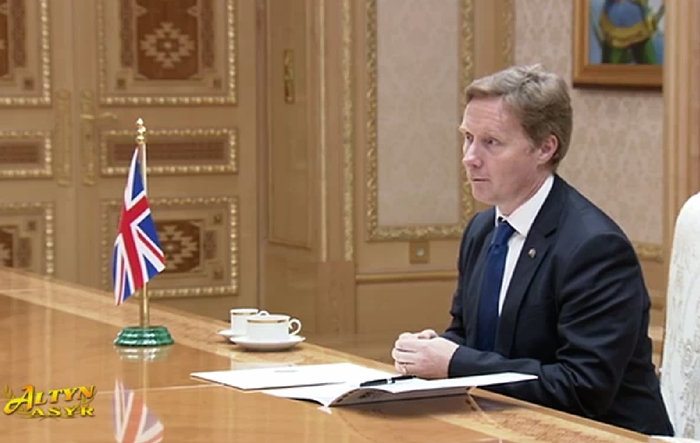 President Serdar Berdimuhamedov conveyed his best wishes to the leadership of Great Britain.
During the meeting, the sides exchanged views on the current state and prospects for the development of Turkmen-British relations. As noted, Turkmenistan and the United Kingdom are effectively cooperating in various fields on the basis of mutual respect, friendship and understanding, and political and diplomatic relations are being stepped up.
The countries also successfully cooperate on a multilateral basis, including on the UN platform.
As President Serdar Berdimuhamedov stressed, there are all opportunities for further development of trade and economic relations between Turkmenistan and the UK, taking into account the adopted programs of reform, industrialization and diversification of the country's economy. In this regard, the expediency of negotiations on the integration of advanced achievements of British companies was noted.
Among the promising areas of partnership are energy, finance, banking services, insurance and green technologies. In addition, it was noted that fruitful cooperation has been established in the field of agriculture.
The Ambassador expressed the interest of the UK business community in expanding its presence in the Turkmen market. He assured that he would make every effort to further intensify economic partnership and deepen ties in the humanitarian sphere. ///nCa, 25 May 2023