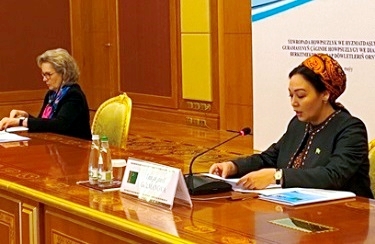 Pia Kauma, Vice-President of the OSCE PA, Special Representative on Central Asia
Your Excellencies, dear Colleagues and guests, it is a pleasure to welcome you to the Central Asia Regional Seminar, and it is an honour to deliver my opening remarks following my distinguished Colleagues – Chairperson Gulmanova, President Cederfelt and Ambassador MacGregor.
Please allow me to begin by extending my gratitude to Ms. Gulmanova for hosting this high-level event on a very pertinent topic on the role neutral states can play in strengthening security, stability and dialogue in the OSCE region. Dear Ms. Gulmanova, it was a pleasure to meet you in Birmingham in July 2022 on the margins of the OSCE PA Annual Session and an even greater pleasure to have you welcome us in your hometown of Ashgabat in your new role as the Chairperson of the Parliament of Turkmenistan.
Dear Participants, the importance of today's Seminar cannot be overstated. In current turbulent times, with the ongoing war in Ukraine and the Taliban takeover in Afghanistan, it is crucial to explore what role the OSCE PA and OSCE participating States can play to help strengthen security, stability and dialogue in the OSCE region.
I am honoured to participate in this Seminar, representing not only Finland but also the OSCE Parliamentary Assembly as a Vice-President. The OSCE PA is a unique institution that provides a platform for parliamentary dialogue for MPs across 56 participating States to strengthen international co-operation.
While it is challenging to remain neutral in current times, it should not be forgotten that maintaining neutrality has helped facilitate dialogue and support conflict resolution throughout history. Maintaining neutrality allows for the acutely needed space for dialogue, contributes to strengthening of peace and security and helps develop peaceful and mutually beneficial relations between states.
Finland was one of the states that observed a policy of neutrality during the Cold War as a balancing act between East and West, and which evolved into building a bridge between East and West.
It is no coincidence that the Helsinki Final Act, the defining document of the OSCE, was signed in Finland in 1975.
Although Finland ultimately opted to join NATO, I still believe that at times applying the policy of neutrality can play a special role in supporting peace and security processes in the OSCE region.
Today's Seminar presents an important opportunity for us to come together and address the challenges which Central Asia and the OSCE region face as a whole, and to identify the role that we, as parliamentarians, can play in reaching effective and sustainable solutions through the platform for dialogue and cooperation offered by the OSCE Parliamentary Assembly.
As the OSCE PA Special Representative on Central Asia, I cannot overstate the importance of this Seminar in encouraging the active participation of parliamentarians from the five Central Asian OSCE participating States and Mongolia, as well as of parliamentarians from France, Italy, Germany, Poland, Spain and Switzerland in strengthening security and dialogue in the Central Asian region and beyond.
In the context of multiple global and regional crises that the region is facing nowadays, countries of Central Asia are furthermore going through important reform processes. Our goal in the Assembly is to listen to the experiences and concerns of our Central Asian friends and to support them in their reform agendas through inter-parliamentary diplomacy in line with OSCE commitments and in the interest of regional co-operation and security.
At the same time, there are many common concerns that the OSCE PA together with its members from Central Asia can jointly address. We need to understand what the consequences of the war in Ukraine are on the economies of Central Asian states, and how it impacts Central Asian migrants and remittances.
At the same time, Central Asian countries can play an important role in understanding the prospects for a diplomatic resolution of the conflict and could take the lead in facilitation and mediation.
The deteriorating situation in Afghanistan and its spillover effects on regional security is another priority area that warrants our attention. Central Asian countries, especially those sharing a border with Afghanistan, played a crucial role in facilitating the relocation of Afghan citizens and the provision of humanitarian assistance. The situation, however, also brings additional concerns for the region in regard to border security, trafficking of drugs and illicit weapons, and threats of violent extremism.
There are a number of other long-standing challenges that require more intensified engagement of our Assembly. Connectivity issues, energy security, regional trade, and climate change are also pressing issues in Central Asia.
In particular, cooperation on the management of natural resources and water management, as well as the promotion of a regional agenda for water are important topics on the regional agenda. Strengthening governance and cooperation on water issues also have the potential to have a positive impact on border stability, trade relations, as well as on opportunities for women and youth in rural areas.
I am also honoured to represent women parliamentarians and women in politics in general. Women in politics play an instrumental role in shaping inclusive and sustainable policies.
Women's contribution and greater representation in peace-making is equally important. As recorded by UN Women, women's participation increases by 35 percent the probability of a peace agreement lasting 15 years.
Therefore, we should also use this opportunity to encourage women's greater participation in safety and security negotiations, mediation and de-escalation processes.
The inclusion of young people in peace-building processes is also necessary for sustainable peace, as recognised in the Youth, Peace and Security agenda. Young people bring innovative perspectives, and can contribute to shaping new, positive narratives and establishing more action-oriented peace-building and conflict transformation processes. I am therefore especially pleased to see that the Chair of the OSCE PA Network of Young Parliamentarians, David Stogmuller, will address our event today and I hope that we will have a chance to hear more about youth perspectives in our discussions.
Lastly, having previously served as the OSCE PA Special Representative on Civil Society Engagement, I would like to emphasize the role which civil society plays in helping advance security and peace. It has been documented that peace agreements are 64 percent less likely to fail when civil society representatives participate.
Dear Participants, let me conclude by once more emphasising the importance of today's Seminar in bringing together representatives of citizens from Central Asia and beyond to identify how we can contribute to strengthening security, stability and dialogue in the OSCE region. We should make full use of all platforms for dialogue.
[These were the talking points of Pia Kauma, Vice-President of the OSCE PA, Special Representative on Central Asia, at the conference "The role of neutral states in strengthening security, stability and dialogue in the OSCE Area," organized jointly by Turkmenistan and OSCE PA on 16 May 2023 in Ashgabat.] /// nCa, 17 May 2023