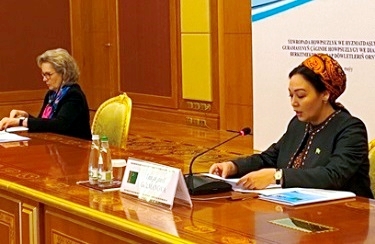 ASHGABAT – The OSCE Parliamentary Assembly and the Mejlis of Turkmenistan jointly hosted a one-day Regional Seminar on the Role of Neutral States in Strengthening Security, Stability and Dialogue in the OSCE Area in Ashgabat, Turkmenistan. The event, held on Tuesday in the framework of the Call for Action – Helsinki +50 initiative, gathered 130 participants including parliamentarians from the Central Asia region, Eastern and Western Europe, academia and media representatives, diplomats and students from the Turkmen National University, the Institute of International Relations and the International University of humanities and development.
In her opening remarks, the Chairperson of the Mejlis of Turkmenistan, Dunyagozel Gulmanova, highlighted the importance of dialogue as a guarantee for peace, as emphasized by a UNGA Resolution adopted in 2022 at the initiative of Turkmenistan. OSCE PA President Margareta Cederfelt emphasized the crucial role of neutral states that helps to foster peaceful relationships between individuals and countries, enabling to approach jointly complex issues and to achieve mutually beneficial solutions. Ambassador John MacGregor underlined the role of preventive diplomacy in strengthening stability and security in the OSCE area. He pointed out at available OSCE mechanisms and tools available for the use of the participating States. Vice-President and Special Representative on Central Asia Pia Kauma (Finland) noted that maintaining neutrality allows for the acutely needed space for dialogue, contributes to strengthening of peace and security and helps develop peaceful and mutually beneficial relations between states.
In the two sessions of the Seminar participants discussed general principles and different models of neutrality, its importance for promoting dialogue and for achieving greater economic, social and political progress. Vice-President Askar Shakirov (Kazakhstan) emphasized the role of the OSCE in bringing together 57 states and its contribution to international security. Underlining the role of the OSCE's toolbox in promoting dialogue, Member of Parliament of Kyrgyzstan Mirgul Temirbaeva stated that strengthening regional cooperation among Central Asian states and promotion of integration processes are some of the main priorities of the Kyrgyz foreign policy.
During the open debate participants focused on the role of neutral states in strengthening security and stability in the region, as well as their potential as mediators. The participants also emphasized the importance of cooperation, exchange of ideas, and collaboration in fostering peaceful relations. In light of geopolitical challenges, Member of Parliament of Tajikistan Muhammad Shodiyon stressed the need for a more constructive dialogue among the countries of the region. Ravshanbek Alimov, Member of Parliament of Uzbekistan, focused his intervention on the significant role of parliamentary diplomacy highlighting the OSCE PA as one of the most important structures for political dialogue. The discussions touched upon various challenges, such as the ongoing war in Ukraine, border conflicts, climate change, terrorism. Parliamentarians recognized the significance of neutral space in promoting peace, diplomacy, and regional co-operation.
In the closing session of the event, organized with the support of the OSCE Centre in Ashgabat, OSCE PA High-Level Expert Ambassador Lamberto Zannier emphasized the need to examine the drivers for future conflicts and ways to prevent them and called on Central Asian delegations to maintain constructive dialogue at a regional level using OSCE PA fora. He encouraged Central Asian delegations to take the lead in continuing this process.   /// OSCE, 16 May 2023