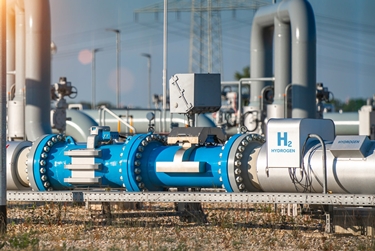 nCa Report
China plans to build an over-400-km hydrogen pipeline to more effectively transfer clean fuel from the resources-rich west to energy-consuming regions in the east, says Xinhua.
This is a sign of the growing acceptance of hydrogen as a clean, sustainable fuel.
The project designed to channel hydrogen from Ulanqab, north China's Inner Mongolia Autonomous Region, to Beijing, will be the country's first trans-regional, long-distance hydrogen pipeline, said Ma Yongsheng, chairman of Sinopec, China's largest oil refiner and operator of the pipeline.
The pipeline in the first phase will be able to handle about 100,000 tonnes of hydrogen each year and has the potential to increase the capacity by 500,000 tonnes in the long run, Xinhua reports.
After being put into operation, the supply from Inner Mongolia will replace the current hydrogen production from fossil fuels in the Beijing-Tianjin-Hebei region, play a pioneering role in trans-regional hydrogen transmission, and help promote the country's energy upgrades, Ma said.
The project has been included in the country's oil and gas network construction plan released by the National Energy Administration in March.
The hydrogen as a fuel is still in its infancy though acceptance is gaining traction in the several regions in the world, mainly the Europe and the North America.
* * *
Because of its extremely flammable nature, the transportation of hydrogen is a challenge but solutions are coming up fast.
Currently the total length of hydrogen pipelines in the world is less than 6000km.
A report compiled by GlobalData says,´" The market is expected to achieve a total growth rate of more than 42% during 2021-2026. North America leads the total hydrogen pipeline length followed by Europe and Asia. Among countries, Denmark leads globally followed by the Netherlands and Italy. In terms of new build capex on planned and announced hydrogen pipelines, NV Nederlandse Gasunie leads globally with the highest capex followed by National Grid Plc Corp and Snam SpA. Among announced and planned (new build) hydrogen pipelines expected to start operations by 2026, Holstebro–Hamburg in Denmark leads globally with the longest pipeline followed by Snam Hydrogen pipeline in Italy."
According to a Reuters report, "Germany is already the European Union's largest consumer of hydrogen as a feedstock for its industrial base, with demand at about 1.7 million tons, or 22% of the EU total."
Before the announcement of the Chinese project reported above, the Groningen-Alkmaar-Yara was the longest upcoming hydrogen pipeline project during 2022 to 2026 with a proposed length of 308 km.
Hydrogen has about 30% of the energy content of methane. That means it takes about 3.3 cubic meter of hydrogen to deliver the same energy as 1 cubic meter of natural gas.
As relationship formula, 4.5 normal cubic meters of gas is one kg of hydrogen.
There are many kinds of raw materials to produce hydrogen. The natural gas is one of them.
There are several ways to produce hydrogen from natural gas: Natural Gas Reforming/Gasification: Synthesis gas—a mixture of hydrogen, carbon monoxide, and a small amount of carbon dioxide—is created by reacting natural gas with high-temperature steam. The carbon monoxide is reacted with water to produce additional hydrogen. /// nCa, 11 April 2023