nCa Report
Contents
Kazakhstan will continue its multilateral balanced foreign policy

USA to add $25 million for Economic Resilience in Central Asia Initiative

U.S. investments in Kazakhstan are estimated at $62 billion.

Meeting of the Secretary of State Blinken with the Minister of Foreign Affairs of Turkmenistan Rashid Meredov

C5+1 Diplomatic Platform
---
On 28 February 2023, a C5+1 Ministerial meeting was held in Astana, the capital of Kazakhstan, with the participation of Deputy Prime Minister, foreign minister of Kazakhstan Mukhtar Tileuberdi, US Secretary of State Antony Blinken, foreign minister of Kyrgyzstan Jeenbek Kulubayev, foreign minister of Tajikistan Sirodzhiddin Mukhriddin, deputy prime-minister, foreign minister of Turkmenistan Rashid Meredov and foreign minister of Uzbekistan Bakhtiyor Saidov.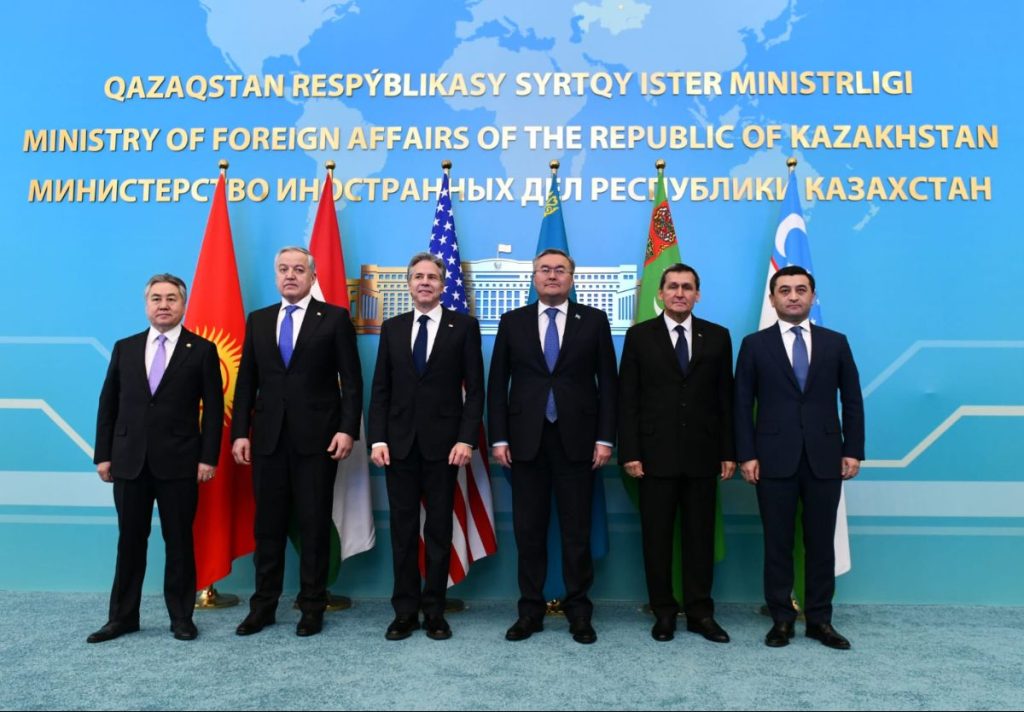 According to the press releases, issued by foreign ministries of the Central Asian countries, the meeting's agenda covered a wide range of issues, including economic and energy cooperation, food security, climate change, as well as the fight against terrorism and extremism and other security challenges and threats.
Following the talks, the C5+1 countries agreed to continue exchanging views on issues of mutual interest.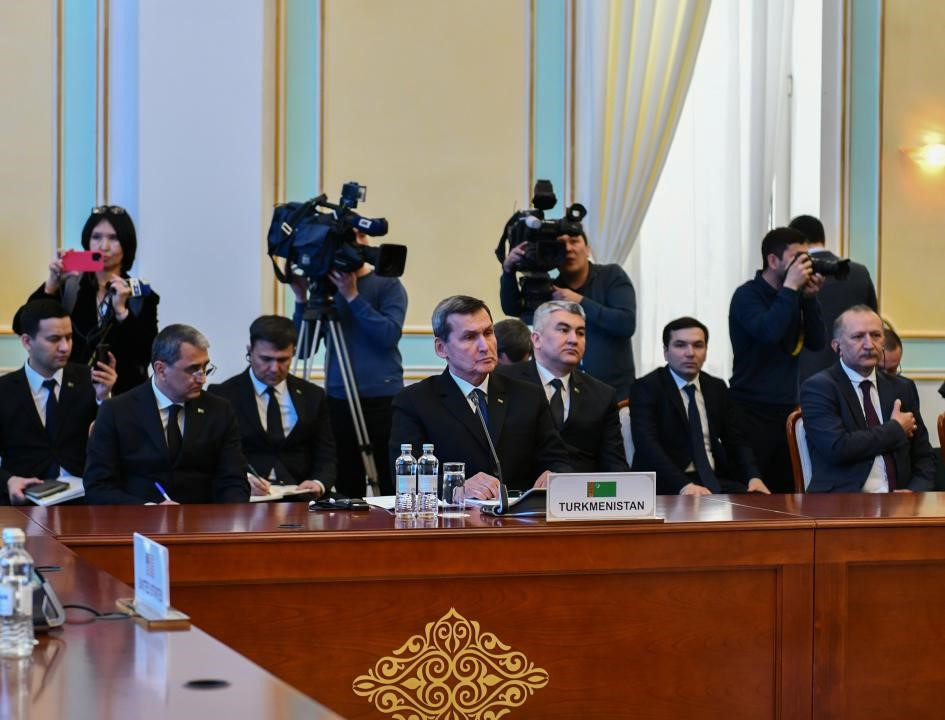 Blinken and Tileuberdi addressed at a joint press conference.
In addition, the head of the State Department had bilateral meetings with President of Kazakhstan Kassym Jomart Tokayev, as well as with his counterparts from Turkmenistan, Tajikistan and Kyrgyzstan.
Kazakhstan will continue its multilateral balanced foreign policy
"Kazakhstan highly appreciates the commitment of the United States to strengthen cooperation with the Central Asian region.  Our country continues a balanced multilateral foreign policy, in accordance with its diplomatic priorities and Central Asia, and the United States remain our major partners", foreign minister Mukhtar Tileuberdi said at a joint press conference with Secretary of State Antony Blinken.
"Kazakhstan will continue its multi-vector foreign policy.  It means that we are trying to keep the system of the check and balances and to develop the mutually beneficial cooperation, relationship with all the countries of the world", he underlined, answering the journalists' questions.
According to him, the C5+1 mechanism has established itself as an effective regional diplomatic platform for promoting economic cooperation, security, as well as sustainable development in Central Asia.
USA to add $25 million for Economic Resilience in Central Asia Initiative
The United States will allocate an additional $25 million to the Economic Resilience in Central Asia Initiative to expand regional trade routes, establish new export markets, attract and leverage greater private sector investment, providing people with practical skills for the modern job market. This was stated by Secretary of State Antony Blinken at the joint press conference after a C5+1 meeting.
"Today, I'm announcing an additional $25 million for that initiative, a total of $50 million to build up the regional economy, and especially to make sure that people have the skills they need to succeed in this global economy", said Blinken.
"To further empower and connect the people of Central Asia, we're launching an effort to increase English language proficiency for more than 1,000 young professionals in government and across civil society", he added.
Here is a Fact Sheet, published by the US State Department on this Initiative:
The Biden-Harris administration launched the Economic Resilience Initiative in Central Asia (ERICEN) in September 2022 to catalyze transformative economic growth across Central Asia.  The United States provided $25 million in FY 2022 funding to diversify trade routes, expand investment in the region, and increase employment opportunities by providing the populations of Central Asia with practical skills for a modern job market.
 Working with Congress, the United States intends to add $20 million in FY 2023 funding to expand programming under ERICEN.  The United States is also planning to provide $5 million to support regional connectivity through economic and energy programs, for a total of $50 million in regional programs.
ERICEN has three key pillars:
Expanding Trade Routes
Expand alternative trade routes, increase shipping capacity, and enhance cross-border E-payment systems.

Enhance infrastructure along Trans-Caspian trade routes.

Identify logistics bottlenecks and make recommendations to governments and the private sector to improve critical port, rail, and maritime logistics hubs in Central Asia.
Bolstering the Private Sector
Facilitate the movement of Western multinational companies to Central Asia and provide additional employment opportunities.

Support connectivity among businesses to ensure their access to new markets, focusing on key sectors with growth potential.

Work with private sector companies in Central Asia to enhance their cyber security, with a view to better integrating Central Asia firms into regional and global value chains and improving trade with the United States.
Investing in People through Training and Education
Expand English language education for young professionals across Central Asia to build a skilled English-speaking workforce, which increases competitiveness in global markets, promotes national economic strength, and supports bilateral trade.

Train or retrain Central Asia's workforce, including returning labor migrants, in entrepreneurship and skills in high demand.
The US Agency for International Development, U.S. Department of Commerce Commercial Law Development Project, and the US Department of State are involved in the implementation of the Initiative.
U.S. investments in Kazakhstan are estimated at $62 billion
The USA is one of the largest investors in Kazakhstan with total investments exceeding US $ 62 billion, said President of Kazakhstan Kassym-Jomart Tokayev during his remarks at the meeting with US Secretary of State Antony Blinken.
"We have built a very good and reliable long-term partnerships in so many strategically important areas like security, energy, trade, and investment. So we are ready to have a follow up on this cooperation. Taking this opportunity, I would like to express our appreciation for the continuous and firm support of the United States for our independence, territorial integrity and sovereignty," President Tokayev said.
In turn, Blinken stressed the importance to build on the remarkable work that has been done now over more than 30 years, to deepen and strengthen bilateral partnership.
In addition, the US chief diplomat praised the political and economic transformations in Kazakhstan.
Secretary Blinken and President Tokayev also discussed ways to strengthen the economic partnership between the United States and Kazakhstan and improve regional connectivity.
Meeting of the Secretary of State Blinken with the Minister of Foreign Affairs of Turkmenistan Rashid Meredov
Deputy Prime Minister, Minister of Foreign Affairs of Turkmenistan Rashid Meredov met with US Secretary of State Antony Blinken on the sidelines of the ministerial meeting "C5+1".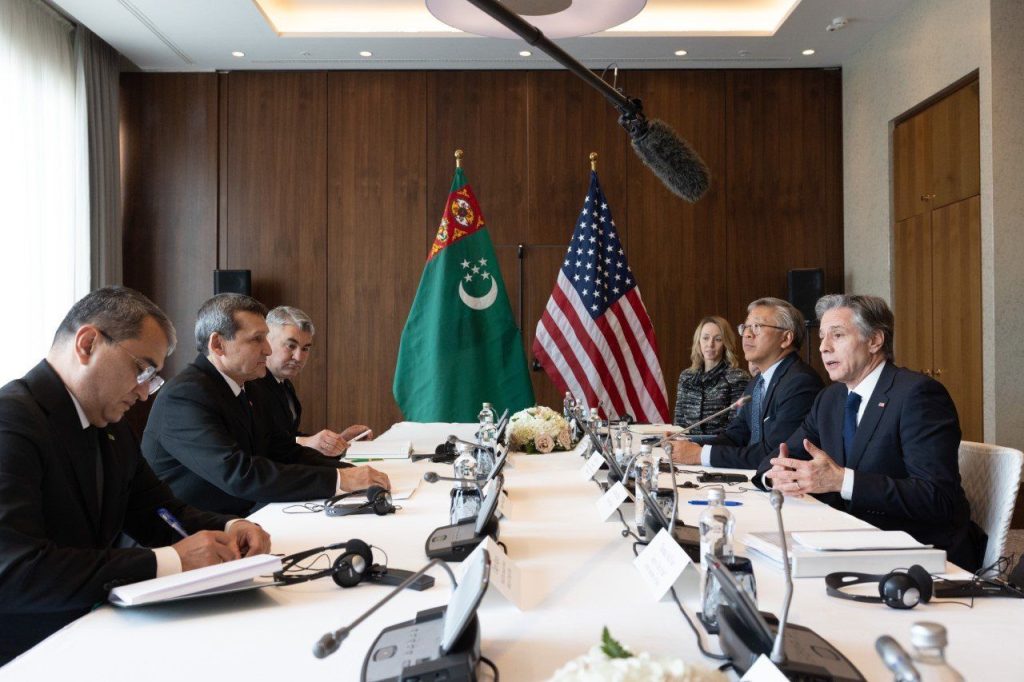 "Secretary Blinken highlighted the United States' support for Turkmenistan's sovereignty, independence, and territorial integrity and lauded more than 30 years of United States-Turkmenistan relations," the State Department said in a press release.
He also thanked Foreign Minister Meredov for Turkmenistan's participation in the C5+1 diplomatic format and continued cooperation on a number of programs. The parties discussed the possibilities of partnership on initiatives in the field of climate crisis, security and economic growth.
C5+1 Diplomatic Platform
The C5+1 diplomatic platform involves all five Central Asian governments (Kazakhstan, the Kyrgyz Republic, Tajikistan, Turkmenistan, and Uzbekistan).
The State Department positions the C5+1 platform as one of the means for the United States to support the sovereignty, independence, and territorial integrity of the C5.
Since its inception in 2015, the C5+1 platform has expanded dialogue and cooperation between the United States and Central Asia through ministerial-level interaction, expert meetings and thematic working groups.
The C5+1 working groups – economy, energy and environment, and security – plus ongoing regional programs, training sessions, and workshops advance progress toward shared objectives.
Since September 2021, the C5+1 has convened four ministerial meetings. On February 28, C5+1 foreign ministers will meet in Astana, Kazakhstan.  C5+1 officials gathered during ministerials chaired by Secretary Blinken on the margins of UNGA in September 2022 and September 2021.  Also in September 2021, the C5+1 convened for a climate ministerial with US Special Presidential Envoy for Climate John Kerry.
In 2022, the C5+1 launched a Secretariat to facilitate the processes for identifying and advancing shared priorities, coordinating communications between participating governments, and planning high-level ministerials and other engagements. ///nCa, 1 March 2023 [photo credit – MFA Kazakhstan, official website of President of Kazakhstan]