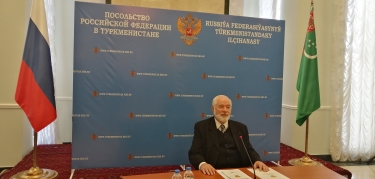 Elvira Kadyrova
On 24 December 2021, the Ambassador of Russia to Turkmenistan Alexander Blokhin held a media briefing, summarizing the outcomes of Russian-Turkmen relations in 2021 and topical issues of the international and regional agenda.
The event was attended by representatives of diplomatic missions accredited in Ashgabat, as well as local and accredited foreign journalists.
Here are the main points of the briefing:
Trade and economic relations
Ambassador Blokhin praised the outcomes of Turkmenistan-Russia trade and economic cooperation in 2021.
In January-October 2021, the Turkmen-Russian non-hydrocarbon trade turnover amounted to US$ 729 million and increased by 8.1%. The exports from Russia are estimated at US$ 621 million, imports from Turkmenistan – US$ 107 million. The bulk of exports to Turkmenistan included machinery, equipment, vehicles (more than 60%). The main import items from Turkmenistan were metals, cotton, agricultural products.
Russian firms continue to be active in the Turkmen market.
The Kamaz company has completed a contract for the supply of 2000 units of motor vehicles to Turkmenistan.
Tatarstan's Tatneft has implemented a contract on increase oil production at old wells. The contract is planned to be extended for 10 years. The parties are negotiating on the issue of doubling the production.
The St. Petersburg company Vozrozhdenie continues to implement a project to ensure the protection of the city of Ashgabat from mudflows.
Negotiations are underway on cooperation in the field of shipbuilding, digitalization.
The issue of creating a Turkmen logistics center is being worked out jointly with the Astrakhan region.
Commenting on the issue of Russian investments in the Turkmen economy, the Ambassador replied: "Turkmenistan is more reliant on its own resources than other countries. Russia has written off Tajikistan and Kyrgyzstan debts totaling US $ 400 million US dollars. Turkmenistan has none of such problems. Turkmenistan lives within its means. If Turkmenistan borrows money, it is doing so through loans."
"If Turkmenistan builds enterprises, they should belong to Turkmenistan. This is its sovereign position. Turkmenistan takes a loan, builds an enterprise, this is its enterprise, its products. It pays for the loan," the Ambassador explained, "Therefore, in this sense, Russia has almost no investments here, and other countries do as well."
"All investments are internal state investments," he said.
Consular issues
According to Blokhin, due to pandemic restrictions, the Russian Embassy in Turkmenistan organized 27 flights. In total, about 5,000 passengers left Turkmenistan on these flights, including 3,000 citizens migrated under the migrant status or under the State Voluntary Resettlement Program.
Also, students, persons who left to reunite with their families, persons for medical reasons, and visitors to Russia and Turkmenistan took advantage of flights.
In 2021, the Embassy issued 518 study visas.  In 2020, this figure was about 1,000, and before the pandemic up to 5-6 thousand study visas were issued. "This is the biggest pandemic loss," the Ambassador said.
Answering the question about the possibility of introducing a visa-free regime with Turkmenistan, Blokhin commented: "If any state wants to establish a visa-free regime with Russia, then only bilaterally. We have no exception to this rule, just like Turkmenistan, where foreign citizens can arrive only on the visa basis."
(Some points from the briefing have been covered in separate stories. Ed.)
Some photographs from the event: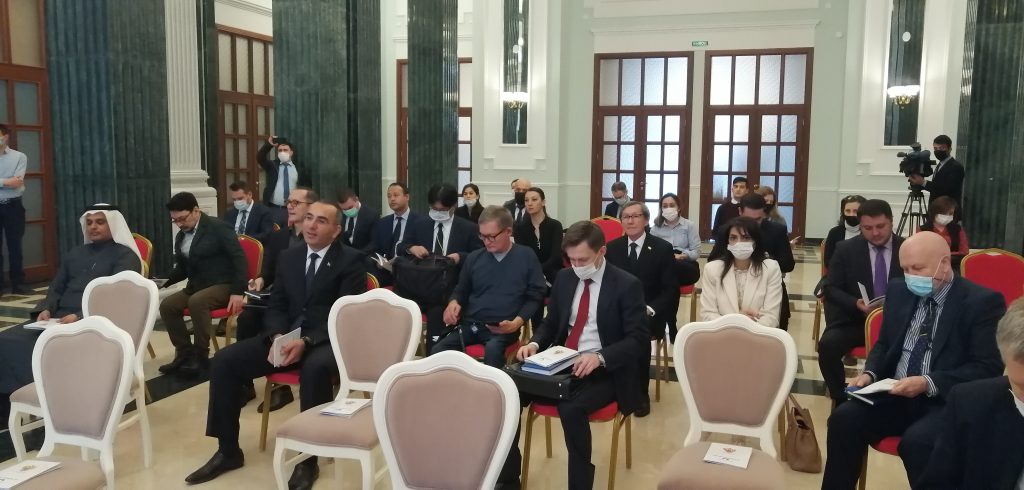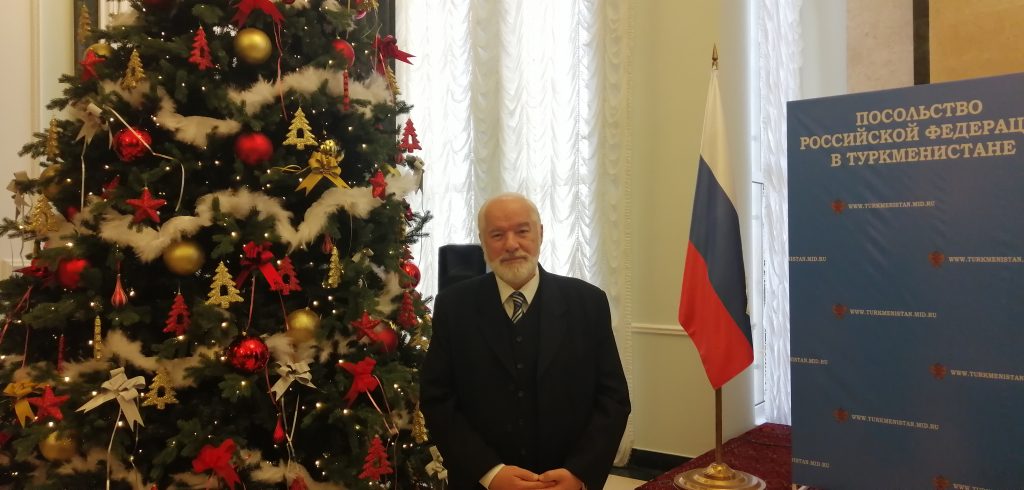 /// nCa, 27 December 2021