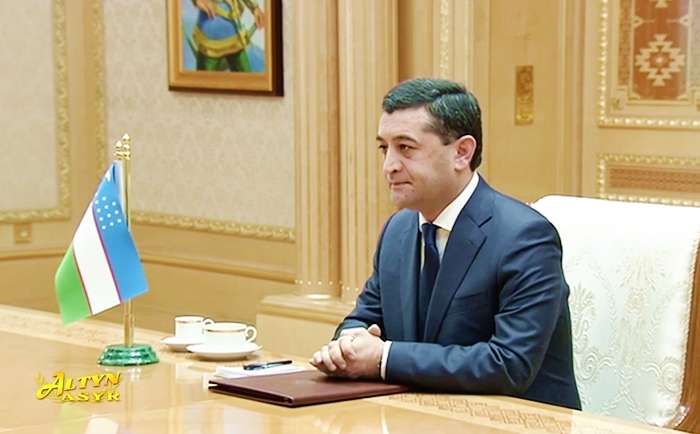 President Serdar Berdimuhamedov of Turkmenistan received the Minister of Foreign Affairs Bakhtiyor Saidov of Uzbekistan on 17 November.
The sides discussed a comprehensive cooperation agenda encompassing trade, economic, cultural, humanitarian, and political aspects.
President Berdimuhamedov underscored the significance of Uzbekistan as a close neighbor and strategic partner, emphasizing the enduring foundation of friendship and mutual understanding upon which their relationship has been built over centuries.
Commending the high level of trust and mutual understanding between the top leadership of their respective countries, both President Berdimuhamedov and Minister Saidov acknowledged the importance of regular meetings in fostering further expansion of cooperation across all spheres.
President Berdimuhamedov fondly recalled his recent visit to Tashkent for the 16th ECO Summit, highlighting the constructive discussions and future plans that emerged from the meeting.
In the sphere of trade and economic ties, the sides recognized the special place this area holds in their bilateral partnership. They noted the active expansion of cooperation in the fuel and energy, transport and logistics, and agricultural sectors.
Additionally, they emphasized the ongoing efforts to harness the full potential of collaboration between the regions of the two countries.
Cultural and humanitarian ties were also a key focus of the meeting, with the parties expressing their commitment to continued collaboration in the fields of science, education, culture, and sports.
Concluding the meeting, President Berdimuhamedov and Minister Saidov expressed confidence in the further strengthening of Turkmen-Uzbek cooperation across all spheres. ///nCa, 18 November 2023
#Uzbekistan, #Turkmenistan