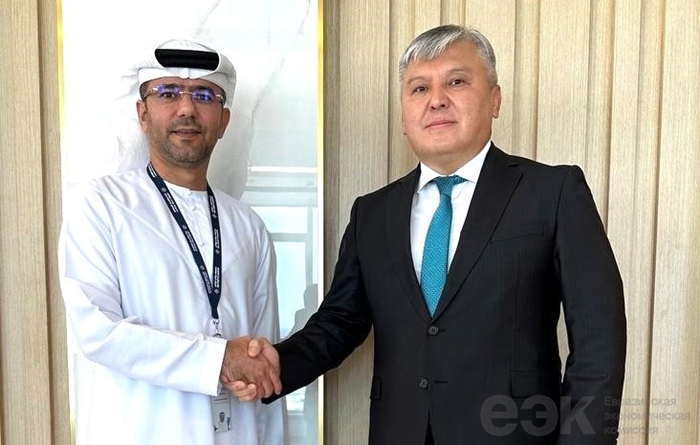 The Eurasian Economic Commission (EEC) and the countries of the Eurasian Economic Union (EAEU) are in active dialogue with the participating countries of the North-South international transport corridor (INSTC) project and all interested parties on transporting goods by rail through Turkmenistan and Iran and then by sea to the United Arab Emirates and vice versa.
This was stated by Arzybek Kozhoshev, Minister of Energy and Infrastructure of the EEC, at a meeting with Mohamed Juma Al Shamisi, General Director of the Abu Dhabi Ports Group on 2 October in Abu Dhabi.
The parties discussed the prospects of cooperation between the EAEU and the UAE in the context of the development of the North-South corridor.
According to the EEC Minister, the planned capacity of the North-South corridor can increase to 41-45 million tons of cargo by 2030.
"The heads of the governments of our countries and railway carriers are interested in developing transportation along the North-South corridor in the direction of the United Arab Emirates, including within the framework of the Eurasian Agroexpress project," Kozhoshev said, expressing confidence that this cooperation will open up new trade routes and new opportunities for all interested parties.
Al Shamisi stressed the relevance of the logistics factor for the economic development of the countries of the region and expressed readiness to increase cooperation in the framework of the development of cargo transportation along the North-South corridor.
The parties agreed to exchange experience in the application of modern digital solutions in the field of logistics, in particular in sea port zones.
AD Ports Group is a port, industrial and logistics operator of the UAE, the largest holding company with a wide portfolio of large enterprises in many parts of the world. Abu Dhabi Ports owns or operates 10 ports and terminals in the UAE.
The EEC is a permanent regulatory body of the Eurasian Economic Union. The main task of the EEC is to ensure the conditions for the functioning and development of the EAEU, to develop proposals for the further development of integration. ///nCa, 4 October 2023
#EAEU, #EEC, #railway, #transport, #Abu_Dhabi_Ports_Group, #INSTC