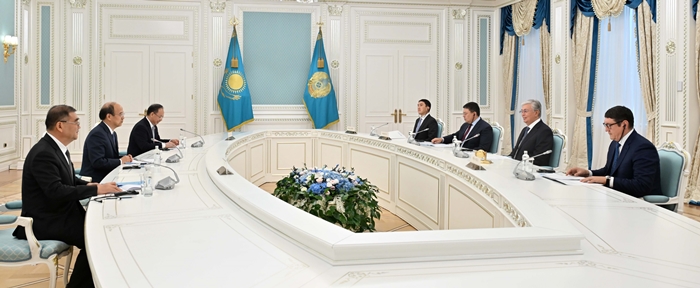 On 3 October 2023, President Kassym-Jomart Tokayev met with Chairman of the Board of Directors of CNPC Dai Houliang to discuss prospects for further cooperation between Kazakhstan and China National Petroleum Corporation (CNPC) in the oil and gas industry.
Tokayev emphasized the importance of continuing work on the exploration and production of hydrocarbons.
The sides also discussed gas exports to China, the construction of a new line of the Beineu–Bozoi–Shymkent gas pipeline, and prospects for expanding the export of Kazakh oil to China.
1,449 km-long Beineu – Bozoi – Shymkent main gas pipeline with a capacity of 13 billion cubic meters per year plays a strategic role in providing the southern and central regions of Kazakhstan with local natural gas, as well as expanding the country's export opportunities.
During the heating season last winter, the Beineu-Bozoy-Shymkent gas pipeline operated beyond its design capacity, necessitating the construction of a second pipeline.
In July of this year, the construction of the second line of the main gas pipeline was considered by the chief executives of QazaqGaz (Kazakhstan's major gas company), China National Petroleum Corporation (CNPC), PetroChina International and Trans-Asia Gas Pipeline Company (TAPLine, a subsidiary of the Chinese state-owned company CNPC).
In May 2023, on the sidelines of the Central Asia–China summit in Xi'an, QazaqGaz and CNPC signed an Agreement on cooperation in the field of natural gas supplies and geological exploration.
The document also serves as a legal basis for the start of construction of the second line of the Beineu-Bozoi-Shymkent gas pipeline. ///nCa, 4 October 2023
#Beineu-Bozoi-Shymkent_gas_pipeline, #CNPC, #China, #Kazakhstan, #gas, #pipeline, #oil