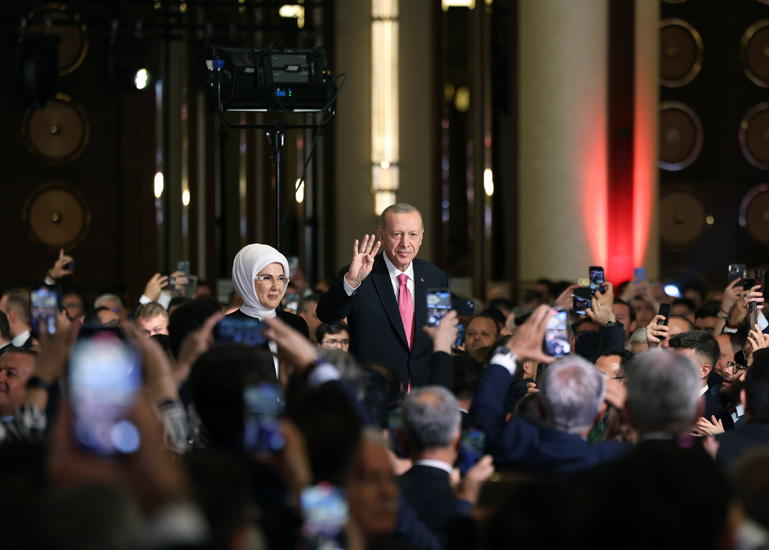 Tariq Saeedi and Elvira Kadyrova
If he sings, his album tops the charts – (This Song Doesn't End Here – Bu Şarkı Burada Bitmez, 1999).
If he writes a book, it becomes an instant bestseller – (A Fairer World Is Possible – Daha Adil Bir Dünya Mümkün, 2021).
The problem when writing about Erdogan is that there is no one we can compare him with. You can only compare Erdogan with Erdogan. He is in a class of his own.
Recep Tayyip Erdoğan took oath of office for the third term as the president of Turkiye on 3 June 2023. In the inauguration ceremony, there were 21 heads of state, 13 prime ministers, 12 speakers of parliament, as well as representatives of 8 international organizations. These included the presidents of Kazakhstan, Kyrgyzstan, Turkmenistan, and Uzbekistan.
Just before the presidential elections, there were massive earthquakes in Türkiye resulting in the tragic death of more than 50000 people and leaving millions homeless. Eleven provinces of Türkiye were affected. — The response of the government came under criticism.
Had there been any other leader, he would likely have lost the elections. Nevertheless, it put hardly a dent in the popularity of Erdogan. In his first presidential elections in 2014, he won with 51.79% of cast votes. In the elections held in 2018, he got 52.59% of votes. In the elections last week, he was re-elected for the third term with 52.18% of votes.
Simultaneously, there were the parliamentary elections in the country. The coalition led by the AK Party of Erdogan holds the majority in the new parliament with 322 seats out of a total house of 600 seats.
This is Erdogan Factor.
[As to why Erdogan remains popular despite all kinds of setbacks, we wrote about that in a piece published 28 August 2016. Since the contents of that piece generally remain valid, we are republishing a smaller version of it today at our website. Ed.]
* * *
As said earlier, Erdogan can only be compared with Erdogan. That is why we need to fashion a label for his world outlook, his way of doing things.
We would like to describe it as pragmatic romanticism.
Erdogan dreams a dream and then sets out with all his might to turn it into reality. And, he mostly succeeds. Those 52-53% of voters appreciate it.
This sentiment is best represented by a popular song, Nereden nereye geldi Türkiye (From where Türkiye came to where we are now). Erdogan has sung this song in countless rallies.
There is surely a world of difference between where Türkiye was before Erdogan and where it is now. There is no doubt.
The charisma of Erdogan projects far and wide, beyond the borders of Türkiye.
He has given the people the courage to believe in their dreams.
* * *
In his third term in office, Erdogan will continue with the processes that have been set in motion between Türkiye and Central Asia.
Foremost among them is the OTS (Organization of Turkic States). It is a flexible format with plenty of room for economic partnership with all countries of the world. Readymade solutions are available even now for deeper interaction with China, Russia, Iran, and the Middle East.
The OTS has already created some mechanisms for internal cooperation with the member countries and with the rest of the world.
Cooperation in the energy and transport/transit sectors is currently in advanced stage between Türkiye and Central Asia. The initiatives in motion will continue toward fruition during the third term of Erdogan in office.
Some new content of partnership between Türkiye and Central Asia could be inspired by Erdogan's book "A Fairer World is Possible."
In his book, President Erdoğan describes in detail Türkiye's quest for justice for all humanity.
Here are some brief comments on the book, as found on the website of the Directorate of Communications of the Presidency of the Republic of Türkiye:
Pointing to the global political dilemmas, particularly injustice, the refugee crisis, international terrorism and Islamophobia in the book, President Erdoğan reveals the discrimination and double standards in the world with the example of the United Nations.
President Erdoğan underlines the need for comprehensive reform, especially in the United Nations Security Council, in the book where he also draws attention to the problems of legitimacy, functionality, effectiveness, inclusiveness, representation and governance of the United Nations.
President Erdoğan gives the following messages in his book:
"In a world where children die and are killed, no one is innocent."
"Justice is one of the most needed issues on the global stage today. Institutions responsible for establishing global justice are unfortunately in great inertia."
"Today's problems cannot be solved with institutions shaped by the needs of the past. It is even self-evident that these institutions generate new problems."
"To our understanding, justice is what will ensure the order, salvation and happiness in the world. For a fairer world, there is a need for a global order that gives hope and confidence." /// nCa, 4 June 2023
#President_Erdogan, #Inauguration_of_Erdogan, #Turkiye