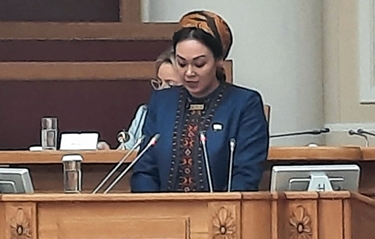 On 26 May 2023, the Turkmen delegation headed by the Chairman of the Mejlis of Turkmenistan Dunyagozel Gulmanova took part in the work of 10th Nevsky International Ecological Congress in St. Petersburg, Turkmen Embassy in Russia said in a press release.  
During her speech at the plenary session, the head of the Turkmen delegation noted that the issues of environmental protection and rational use of natural resources are one of the priorities of the state policy pursued under the leadership of President of Turkmenistan Serdar Berdimuhamedov.
Great practical work was noted to ensure a favorable environment, the introduction of green and resource-saving technologies, and the rational use of water resources. Great efforts are being made to promote respect for the environment and environmental education of the younger generation.
Turkmenistan's efforts to strengthen international cooperation in the field of ecology and sustainable development were noted.
The initiatives of the President of Turkmenistan aimed at shaping the international environmental agenda are of particular importance in this context. 
 Turkmenistan's active participation in a number of key UN environmental conventions, active work within the framework of relevant international organizations, cooperation at the regional level, including in the format of the Caspian Five, was emphasized. 
***
The 10th Nevsky International Ecological Congress is being held in St. Petersburg. The main theme of the congress is "Ecology: a right, not a privilege."
It is organized by the Government of Russia, the Federation Council, the Interparliamentary Assembly of the CIS and the Ministry of Natural Resources and Ecology of Russia.
On the sidelines of the visit to St.Petersburg, Gulmanova met with the pseaker of Federation Council of Russia Matvienko. 
https://www.newscentralasia.net/2023/05/26/turkmenistan-and-russia-discuss-issues-of-inter-parliamentary-dialogue/ 
///nCa, 26 May 2023