During the official visit to Ashgabat, the Chairman of the State Duma addressed the deputies of the Mejlis of Turkmenistan.
"Today, relations between Russia and Turkmenistan are strategic in nature, based on the principles of equality, good-neighborliness and respect. The development of mutually beneficial cooperation with Turkmenistan is one of our priorities," Vyacheslav Volodin, Chairman of the State Duma.
"The legal framework of relations between Russia and Turkmenistan has about 200 interstate, intergovernmental and interdepartmental documents," he continued.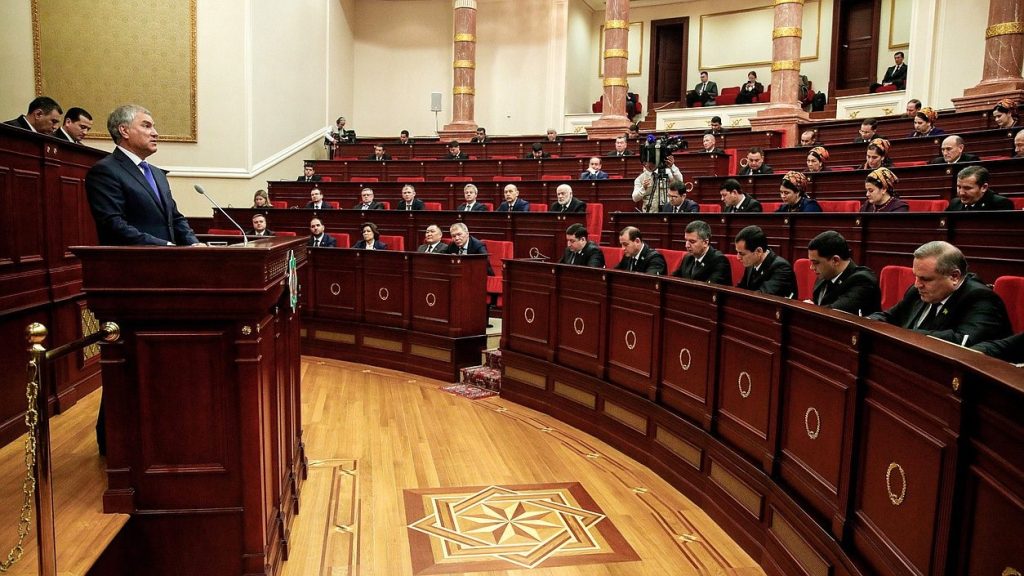 Volodin called on his Turkmen colleagues to help strengthen trade and economic relations between Russia and Turkmenistan, since Russia is one of the five key trading partners of Turkmenistan.
Among the main areas of bilateral cooperation, Volodin named the oil and gas industry. In his opinion, it is necessary to deepen cooperation in the energy sector, including in the development of new fields.
"It is also important to increase the efficiency of joint projects in energy, transport infrastructure, industry and agriculture," he added.
Touching upon issues of the international agenda, the chair of the Duma stressed the similarity of the positions of Turkmenistan and Russia on issues of the international agenda. He expressed gratitude to Turkmenistan for the  support of Russian initiatives at the UN, including those aimed at countering the glorification of Nazism and falsification of the history of the Second World War.
The Caspian track of parliamentary interaction took a prominent place in the remarks.
"The formation of the parliamentary dimension of the Caspian Five will contribute to the practical implementation of the agreements reached by the heads of the five countries," Volodin said.
He proposed hosting a conference, which can bring together the chairmen of the Caspian countries' parliaments in each of the states in turn.
"The centuries-old traditions of peace, goodwill, and respect for other people's interests have found their continuance in Turkmenistan's foreign policy, which enjoys the status of permanent neutrality," the Chairman of the Duma said.
"I see our task, colleagues, in finding new opportunities for the rapprochement of our countries through the inter-parliamentary dialogue," Volodin concluded. ///nCa, 31 January 2023