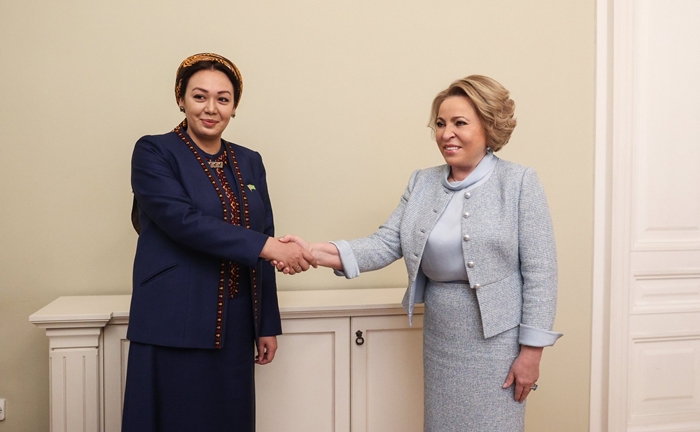 The Chairman of the Mejlis of Turkmenistan Dunyagozel Gulmanova met today, 26 May, with the Chairman of the Federation Council of Russia Valentina Matvienko. The meeting took place on the sidelines" of the 10th Nevsky International Ecological Congress in St. Petersburg.
The Chairman of the Federation Council stressed that Russia and Turkmenistan maintain a regular, trusting dialogue at the high and highest levels, ministries and departments are in constant contact. Mutually beneficial cooperation in the political, trade, economic, energy and humanitarian fields is steadily developing, interaction is carried out on international platforms, the Federation Council notes.
According to Valentina Matvienko, parliamentary delegations of Turkmenistan traditionally take part in the Nevsky Ecological Congress, but for the first time at such a high level.
The Speaker of the Federation Council noted that a large-scale reform of the parliament took place in Turkmenistan at the beginning of this year, and expressed confidence that these transformations will contribute to the creation of favorable conditions for the further development of Turkmenistan, ensure the effectiveness of public administration, unity and cohesion of society.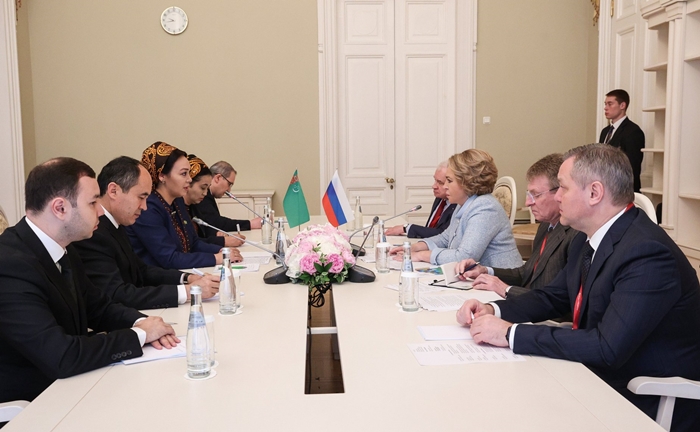 "Taking into account the changes in the structure of the Parliament of Turkmenistan, we propose to think together about how to build our further cooperation, what adaptation is required by the existing mechanisms of cooperation," Matvienko noted.
She pointed out the need to update the legal framework and sign a new bilateral inter-parliamentary agreement.
According to Valentina Matvienko, 2022 has become a landmark year for the development of Turkmen-Russian parliamentary cooperation. So, in May in Ashgabat, the Russian delegation participated in the Interparliamentary Forum of Central Asian countries and Russia, the Dialogue of Women in the new "Ashgabat 5+1 format".
She expressed readiness to take an active part in the preparation of the second Inter-Parliamentary Forum of Central Asian Countries and Russia and the establishment of its secretariat in Ashgabat.
The Speaker of the Federation Council invited Dunyagozel Gulmanova to take part in the events of the CIS Interparliamentary Assembly, to be held in Bishkek in November this year.
Gulmanova thanked Matvienko  for the invitation to participate in the work of the 10th Nevsky International Ecological Congress.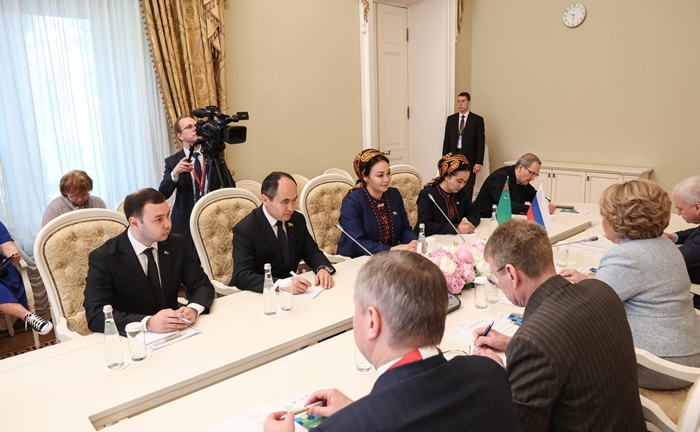 The Chairman of the Mejlis of Turkmenistan also stressed the importance of strengthening bilateral inter-parliamentary cooperation, including constructive interaction on various international platforms.
"Thanks to the leaders of our states, relations between Turkmenistan and Russia are developing dynamically and reaching a new qualitative level. The inter-parliamentary dialogue between our countries is also being successfully strengthened," she said.
***
The 10th Nevsky International Ecological Congress is being held in St. Petersburg. The main theme of the congress is "Ecology: a right, not a privilege."
It is organized by the Government of Russia, the Federation Council, the Interparliamentary Assembly of the CIS and the Ministry of Natural Resources and Ecology of Russia. ///nCa, 26 May 2023 [photo credit – Federation Council]