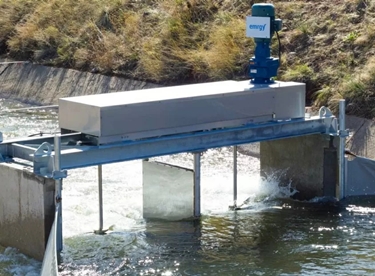 The Eurasian Development Bank (EDB) intends to invest US $400 million in Central Asia's water and energy complex over the next three years, said Nikolai Podguzov, Chairman of the Eurasian Development Bank Management Board, at the UN 2023 Water Conference in New York.
"Central Asia's water and energy complex is one of the Bank's top priorities per its medium-term strategy. The EDB estimates that solving the sector's current challenges would help to boost regional GDP by an additional 1.5% a year. Advanced irrigation technology and the modernisation of irrigation systems could improve the efficiency of water use by 40%. This will also make agricultural production more secure, which is a crucial driver of the region's food security," said  Podguzov.
He also believes that the efficient use and allocation of water and energy resources in Central Asia require concerted effort.
"We should solve this problem in the context of the entire region. In our view, water and energy resources are the backbone of regional cooperation. Regional water and energy organisations as well as multilateral financial institutions could become a link in this process," he added.
Head of EDB Podguzov emphasised the role of multilateral development banks and other international financial organisations, which should contribute to ensuring the adequacy and efficient use of water and energy resources in Central Asia.
"A lot needs to be done. We look forward to working together with other multilateral banks and, of course, member governments. I believe that our joint efforts will help to solve successfully the long-term water problems in Central Asia," he concluded.
Following the UN Water Conference, Kazakhstan, Tajikistan, Turkmenistan and Uzbekistan plan to make a joint statement setting out the basic principles of cooperation in this area. The EDB, for its part, will follow the spirit of this statement and promote its implementation in every way possible.
The Bank is implementing the Central Asian Water and Energy Complex mega-project based on research and projections of the most effective ways to comprehensively develop the sector. Bank analysts have already conducted studies such as Investment in the Water and Energy Complex of Central Asia and Regulation of the Water and Energy Complex of Central Asia.
The EDB has also formed a list of projects to provide the region with the electricity and water it needs. These include the 100 MW Kulanak hydropower plant, which the EDB has started to finance.
The UN 2023 Water Conference co-hosted by the governments of Tajikistan and the Netherlands is aimed at playing a vital role in mobilizing UN Member States and stakeholders to take action and implement successful water solutions. The Conference is seeking voluntary commitments to the Water Action Agenda.
The Eurasian Development Bank has observer status in the UN General Assembly. ///nCa, 24 March 2023