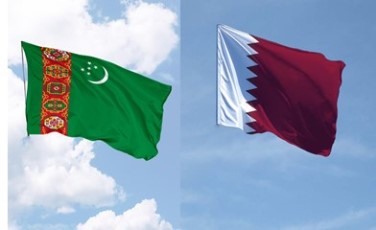 The national leader of Turkmenistan and the chairman of the Halk Maslahaty, Gurbanguly Berdimuhamedov had a meeting in Ashgabat on 20 February 2023 with Sheikh Faisal bin Nasser bin Hamad Al-Thani, a member of the royal family of Qatar.
The sides agreed that the Turkmen-Qatari cooperation was developing in the fields of energy, transport and communications, industry, agriculture, and high technologies. In particular, it was noted that new opportunities were opening up for building up investment partnerships.
Among the most promising areas of cooperation was the fuel and energy complex. It was also emphasized that the cultural and humanitarian sphere is an integral part of the traditionally friendly interstate dialogue.
During the conversation, the National Leader of the Turkmen people, Chairman of the Halk Maslahaty, on his own behalf and on behalf of the President of Turkmenistan, congratulated the guest on holding the World Cup in Qatar in 2022 at a high organizational level, noting that this sports festival has become a significant event for the entire Islamic world .
Expressing sincere gratitude for the congratulations, Sheikh Faisal bin Nasser bin Hamad Al-Thani stressed that the visit of the President of Turkmenistan Serdar Berdimuhamedov to Doha during the world championship and his attendance at one of the matches were perceived as a sign of high respect for the State of Qatar. This also gave an effective impetus to the further intensification of bilateral cooperation, including in the field of sports.
Sheikh Faisal bin Nasser bin Hamad Al-Thani invited Hero-Arkadag Gurbanguly Berdimuhamedov to visit the State of Qatar at any time convenient for him.
The National Leader of the Turkmen people, Chairman of the Halk Maslahaty of Turkmenistan expressed gratitude for the invitation. The dates of the visit will be agreed through diplomatic channels. /// nCa, 21 February 2023