Sheikh Mansour bin Zayed Al Nahyan, the Deputy Chairman of the Cabinet of Ministers of the United Arab Emirates, Minister for the Office of the President of the United Arab Emirates made a short visit to Turkmenistan on Sunday, 19 February 2023.
He was received by President Serdar Berdimuhamedov. The talks covered a wide range of issues of bilateral, regional and global importance.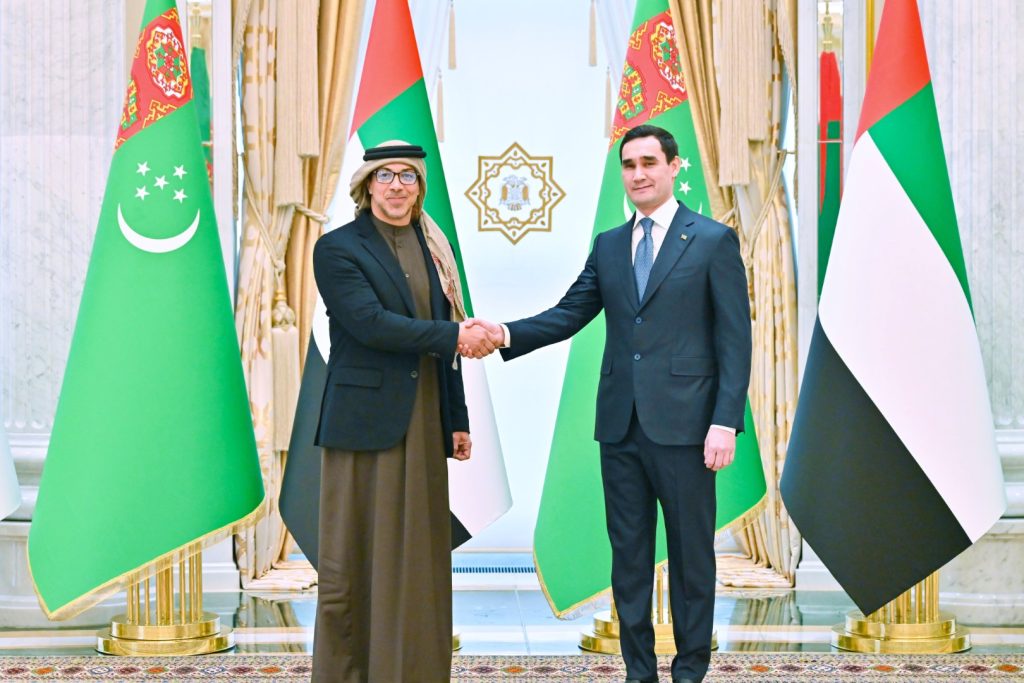 The meeting follows a joint statement issued by the two countries that said they aim to implement joint projects and co-operate in vital sectors such as oil and gas, renewable energy, and the financial and banking sectors.
In view of the expanding transport and transit infrastructure of Turkmenistan, the sides underlined that in the transport systems there were great prospects for establishing relations with foreign partners with rich experience in this area, including the UAE companies.
The Turkmen side pointed out the importance of the Turkmenbashi Port in the North-South and East-West connectivity solutions. It was mentioned that the seaport of Turkmenbashi fully meets the goals of establishing supply chains with ports in the United Arab Emirates, and for companies specializing in port management and provision of logistics services, it can become an attractive project.
As noted during the meeting, among the main areas of partnership is the implementation of joint projects that can become the driving force behind economic cooperation and open up new opportunities for attracting investments, creating mixed industries, creating a modern infrastructure system, and building up cooperation in the banking and financial sector.
President Serdar Berdimuhamedov stated the expediency of making full use of the existing potential to intensify cooperation, including in the cultural and humanitarian field.
The Turkmen news service TDH added that the favorable geographical location of Turkmenistan and the creation of a favorable investment climate in the country attract representatives of foreign business, including those from the Middle East. In this context, bilateral mutually beneficial ties are being built up in the trade, economic and fuel and energy sectors, the construction of social facilities, etc.
Confirming the interest of representatives of the UAE business circles in building up a productive partnership with Turkmenistan, Deputy Chairman of the Cabinet of Ministers of the United Arab Emirates, Minister for Presidential Administration Sheikh Mansour bin Zayed Al Nahyan once again expressed sincere gratitude to the head of state for the warm welcome.
It should be recalled that during his visit to the UAE on 11-12 February 2023, the national leader of Turkmenistan and the Chairman of Halk Maslahaty, Gurbanguly Berdimuhamedov had a meeting with Sheikh Mansour bin Zayed Al Nahyan. /// nCa, 20 February 2023