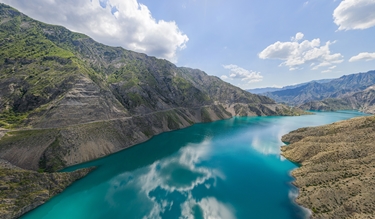 The Eurasian Development Bank (EDB) will finance the construction and operation of 100MW Kulanak hydroelectric power plant in Kyrgyzstan worth about US $ 118 million.
The plant will generate 435 million kWh of electricity per year on average.
This renewable energy facility will occupy an area of 485.41 hectares on the Naryn River near the village of Kulanak, Naryn Region, Kyrgyz Republic.
The project has been verified as "green" in accordance with international loan principles of the Loan Market Association. Its implementation will prevent the emission of 346.4 thousand tons of greenhouse gases per year.
The cost of the project is US $ 117,989,262. The Russian-Kyrgyz Development Fund (RKFR) is also planning to participate in financing the construction and operation of the Kulanak HPP on a parity basis.
Why is the project important for Kyrgyzstan and Central Asia?
The plant is expected to consolidate the country's position in Central Asia's electricity market, reduce energy shortages in the Naryn region, which has only one 40 MW hydroelectricity plant, and improve energy security.
"The Kulanak HPP is not just a major project under the EDB's Country Strategy for the Kyrgyz Republic, but also an important link in its Central Asian Water and Energy Complex mega-project. The commissioning of an additional 100 MW of generating capacity in Kyrgyzstan will address capacity shortages in its energy system. This will also provide an opportunity to more effectively distribute the daily loads of solar power plants and wind farms, which are planned to be built in all Central Asian countries," said Ruslan Dalenov.
As Dalenov stressed, the new plant will help to reduce electricity shortages in Kyrgyzstan and improve the operation of water reservoirs for irrigated farming.
The commissioning of the new HPP will increase the area of irrigated agricultural land in the region by 1.5 times, to 6,769 hectares. ///nCa, 3 February 2023