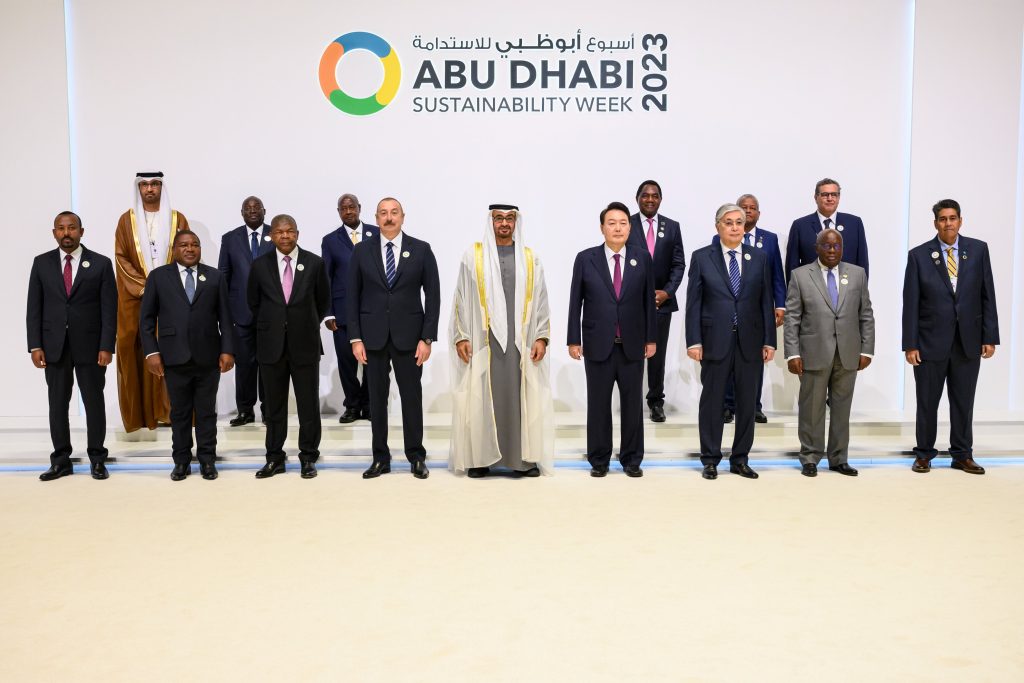 The ADSW 2023 (Abu Dhabi Sustainability Week 2023) is taking place 14-19 January 2023 at the Masdar City in the UAE.
ADSW 2023, hosted by the UAE's clean energy powerhouse Masdar, features a series of key events under the theme of 'United on Climate Action Towards COP28.'
A cluster of mega events, ADSW is also focused on key priorities for sustainable development ahead of the UN conference – COP28, to be hosted by the UAE, from 30 November to 12 December 2023.
The opening ceremony of ADSW 2023 took place on 16 January 2023 at the Abu Dhabi National Exhibition Centre (ADNEC), led by President Mohamed bin Zayed Al Nahyan.
The participants included Yoon Suk Yeol, President of the Republic of Korea; Ilham Aliyev, President of Azerbaijan; Kassym-Jomart Tokayev, President of the Republic of Kazakhstan; Wavel Ramkalawan, President of the Republic of Seychelles; João Manuel Lourenço, President of the Republic of Angola; Hakainde Hichilema, President of the Republic of Zambia; Nana Akufo-Addo, President of Ghana; Yoweri Museveni, President of the Republic of Uganda; Surangel Whipps Jr., President of the Republic of Palau; Filipe Jacinto Nyusi, President of the Republic of Mozambique; Samia Suluhu Hassan, President of the United Republic of Tanzania; Aziz Akhannouch, Prime Minister of the Kingdom of Morocco; and Abiy Ahmed, Prime Minister of Ethiopia; Tiemoko Meyliet, Vice President of the Republic of Côte d'Ivoire.
The president of the UAE said that ADSW this year is an essential step towards the UAE hosting the United Nations Climate Change Conference (COP28). The country's selection to host COP28 reflected the UAE's continued efforts to promote practical climate action, sustainable economic development, and progress towards desired global goal, he said.
The ADSW Summit, the two-day flagship event of ADSW, was focused on a wide range of important topics, including food and water security, energy savings, decarbonisation of industries, health and climate adaptation.
Abu Dhabi Sustainability Week (ADSW 2023) —— https://abudhabisustainabilityweek.com/
ADSW 2023 Events
Atlantic Council Global Energy Forum —- 14 – 15 Jan

IRENA Assembly —- 14 – 15 Jan

Zayed Sustainability Prize Awards Ceremony —- 16 Jan

ADSW Summit —- 16 – 17 Jan

World Future Energy Summit —- 16 – 18 Jan

Youth 4 Sustainability —- 16 – 18 Jan

Innovation Zone —- 16 – 18 Jan

Innovate —- 16 – 19 Jan

WiSER Annual Forum —- 17 Jan

Arctic Circle Abu Dhabi Forum —- 17 – 18 Jan

Zayed Sustainability Prize Forum: Raising Ambition, Progressing Inclusivity —- 18 Jan

Green Hydrogen Summit —- 18 Jan

Abu Dhabi Sustainable Finance Forum —- 19 Jan /// nCa, 18 January 2023