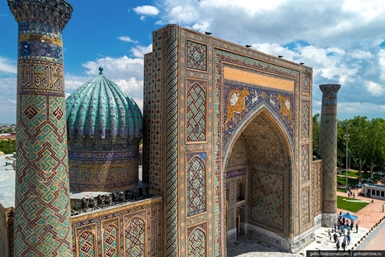 Nigora Yigitalieva, PhD in Political Science
Thanks to an open, proactive and comprehensively thought-out pragmatic foreign policy and dynamic "economic diplomacy", Uzbekistan is strengthening its position in the international arena every day. Having become the organizer and host of such an important event as the SCO summit in Samarkand 15-16 September 2022, this state proved that it was not an ordinary statist of the large-scale and deep transformations taking place in the modern world, but became one of the important subjects of international relations and plays an active, initiatively, and therefore a leading role in a vast region, occupying a worthy place in the world community.
The prominent international summit of the Organization of Turkic States in Samarkand on November 11, 2022 is another bright manifestation of this city as a "rising star" of international diplomacy. This summit is remarkable not only for "breakthrough decisions", but also by the composition of its participants, the heads of 7 states of the world and a number of international structures, but also by its screaming slogan "Revival of the Turkic world". Here it is appropriate to note that the words "Revival" and "Renaissance" become the hallmark of the New Uzbekistan.
"…Today, when the powerful potential of our people is being realized in full swing, in Uzbekistan is being laid a new awakening, the foundation of a new Renaissance epoch. Today's Uzbekistan is not yesterday's Uzbekistan. And our people are no longer the same as they were yesterday." These thoughts were voiced by President Shavkat Mirziyoyev several years ago, and today they are becoming reality right before our eyes. At the same time, the frequent mention of the phrase "New Uzbekistan" on a global scale indicates the recognition that this country has indeed entered a completely new stage of development in recent years – a stage of huge transformations and achievements, taking strength from the great past and the energy of the present. Today's renewed, ancient and eternally young Samarkand is one of the brightest examples of this revival.
At one time, the great Amir Temur attached special importance to Samarkand as the center of diplomatic negotiations at the highest level and created the appropriate infrastructure for this. He built majestic buildings and beautiful gardens around them with all amenities, including accommodation for foreign delegations. As history shows, the outstanding ruler managed to perpetuate the name of this city, turning it into an important political platform where decisions crucial for many countries are made.
At present, thanks to the efforts of the modern leadership of Uzbekistan, Samarkand is restoring its special role in international life, preserving and enhancing the country's historical political and diplomatic heritage in a new, larger format. Clear evidence of this is the unprecedented large-scale SCO summit held in September in this city, as well as the current summit of the Turkic states. Dynamic Samarkand with a new look and growing infrastructure already claims to be the host of a number of other equally important international events and promises to be a center of international diplomacy on a grand scale. ///nCa, 11 November 2022 (in cooperation with Embassy of Uzbekistan in Turkmenistan)