Elvira Kadyrova
In January-July 2021, the volume of cargo transportation via the territory of Kazakhstan and Turkmenistan amounted to 742,500 tons. The figures have been announced during a recent meeting of the head of Kazakhstan Railways Nurlan Sauranbayev with the Ambassador of Turkmenistan to Kazakhstan Batyr Rejepov.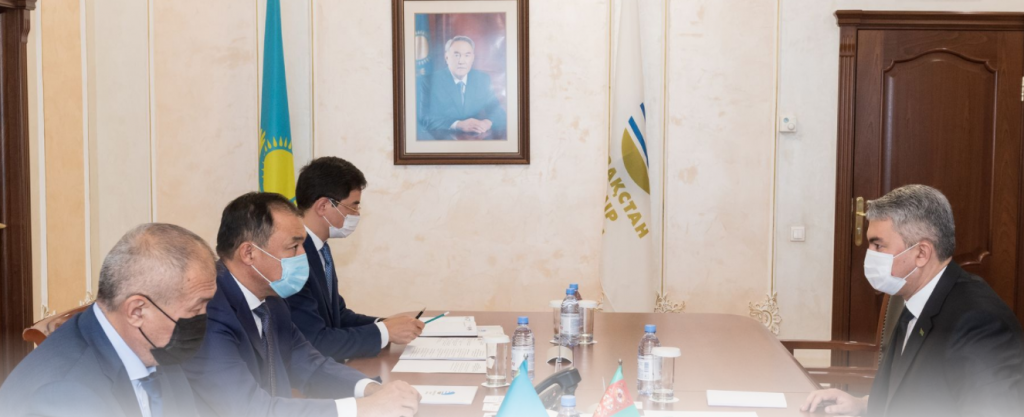 The parties noted the expediency of creating favorable tariff conditions for the transit of goods through the territory of Turkmenistan towards Iran, Turkey and Afghanistan, the press service of Kazakhstan Railways reported.
"This will increase the cargo flow and will have a positive impact on the development of the transit potential of the two countries in general", Sauranbayev stressed.
Noting the strategic partnership between the two countries, the meeting discussed the opportunities and prospects for further transit and transport cooperation.
The issues of developing cooperation in the transit and transport sphere will be discussed in detail at the upcoming online meeting of the heads of the railway administrations of Kazakhstan and Turkmenistan in in the near future.
Kazakhstan and Turkmenistan are connected by an international railway route leading to Iran. In addition, Turkmenistan intends to modernize the road bridge over the Caspian Strait Garabogazgol. This facility claims to become an essential infrastructure link of the international transport route Turkmenistan-Kazakhstan. /// nCa, 14 September 2021