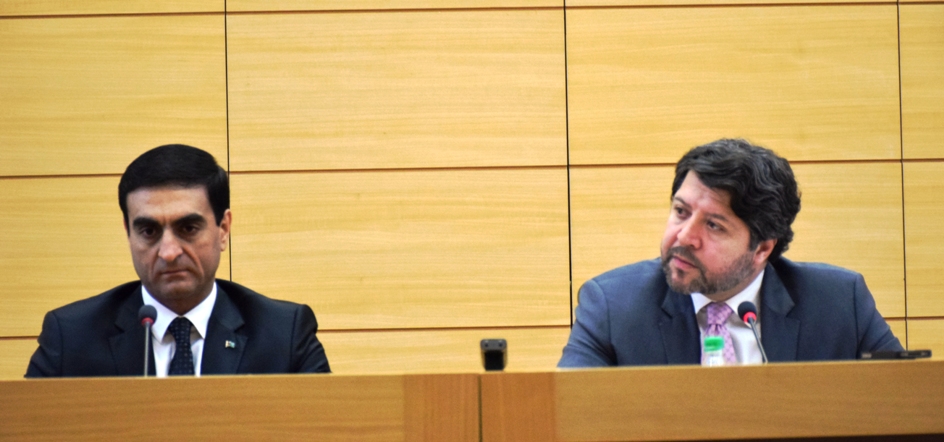 nCa Report
Ashgabat, 3 June 2016 (nCa) — Hekmat Karzai, the deputy minister of foreign affairs of Afghanistan, together with his Turkmen counterpart, Vepa Hajiev, addressed a press conference Thursday in Ashgabat.
He commented on a wide range of issues including the security of TAPI, the engagement with the Taliban and the new steps being taken to strengthen partnership between Turkmenistan and Afghanistan.
Here is the transcript:
Statement by Hekmat Karzai
It is an honour and a privilege to be in Ashgabat. This is my first visit to hold our bilateral political consultations.
Let me extend my gratitude to my dear friend and brother Mr. Vepa Hajiev for the very warm hospitality that has been extended to me and my delegation.
Turkmenistan is not just a neighbour for Afghanistan; it is a very good friend with whom we share deep cultural and historic ties.
We believe that the progress that Turkmenistan makes is the progress that we cherish and this is the progress that we consider our own.
Let me also extend our gratitude and or course the gratitude of the people of Afghanistan to His Excellency Gurbanguly Berdymuhamedov, the president of Turkmenistan, for his vision and his leadership that he has provided.
The president's personal efforts in the regional projects are much appreciated by the people of Afghanistan. We feel that these very large projects, whether we talk about TAPI, whether we talk about the rail links or whether the electricity projects, these are all projects that, I think, will have major impact on the region and will change the future to great extent.
We are also extremely grateful to the president for supporting our peace efforts and for offering assistance in this process.
Let me also take this opportunity to thank the people of Turkmenistan for providing extensive amount of support and assistance whether it is about building clinics or about building mosques. They have stood shoulder to shoulder with us.
[I am sure AIMAG 2017 will be very successful and Afghanistan will win some gold]
Regarding the political consultations we had, I had extremely productive meetings with my counterpart Mr. Hajiev and I have an extensive and comprehensive meeting with His Excellency the foreign minister.
In our bilateral political consultations we discussed a host of issues including our bilateral ties, economic development, cultural exchanges, regional projects, and most importantly, security and development.
We have agreed on a series of issues and we will make sure that we implement what we agreed on.
We have to further strengthen our relationship by holding discussions at very senior level to make sure that our consultations are done regularly and frequently.
We have agreed to hold the joint economic commission in the coming weeks. We also agreed to hold our security and border commission in the coming weeks.
We also agreed to hold a joint exhibition of Afghan products here in Ashgabat.
We also agreed to work toward the trade balance. At this state the trade balance between the two countries is really almost considered one sided. We would like to make sure that there are products that we bring to this country. There are elements such as dry fruit, fruit, and various kind of stones including marble that we want to bring to Turkmenistan.
We also agreed to have better coordination between our provinces on both sides of the border. We will have frequent meetings between the provinces and better interaction on the htwo sides so that they can coordinate and work with each other.
We also looked at the decisions by Turkmenistan and Afghanistan and have welcomed the decision for Turkmen partners to continue to provide humanitarian assistance in different areas.
The key major project for us really is looking at TAPI. We have had extensive conversation on its capabilities, our preparations and possibly the changes that TAPI will bring to the region.
We also looked in greater detail at the rail links that we will be establishing, whether it is looking at lines to Herat, or whether it is looking at lines from Turkmenistan to Akina and then to Andkhoi.
Also we have looked at various levels of electricity supplies that Turkmenistan will provide at many different levels.
Our objective really here is to make sure that we have different capacities and we take advantage of those capacities.
Our objective here is very simple: We want to work with Turkmenistan so they can have access to South Asia. Similarly, we would like the opportunity to work with our Central Asian partners. Once again, we consider the progress of Turkmenistan the progress of Afghanistan.
On question from nCa about TAPI security and engagement with Taliban
First, regarding the security of TAPI, we feel that TAPI is not just the responsibility of one country. This is the responsibility of all the four countries. And, we need to make sure that all the four countries work together very closely to make sure that TAPI succeeds.
The government of Afghanistan has developed an extensive security plan. This plan was recently shared with His Excellency the foreign minister of Turkmenistan during his last visit. Our national security council provided him an extensive briefing about the security allocations, about personnel, about engagements, about tribal mobilization, about all of that we shared. I think, for the most part our Turkmen colleagues were quite satisfied.
At the same time, there are activities that our Turkmen colleagues will undertake. We have now been in discussion on various different initiatives that they will undertake. Hopefully, later on they will discuss these initiatives with you [journalists] on how we can proceed.
But, nonetheless, we are quite satisfied and moving forward. Our engagement is really very simple. We need to provide the people in our region with economic opportunities. We need to provide in our region jobs. This is also very simply the concept that His Excellency the president of Turkmenistan has raised.
The objective for us is very simple. We want to make sure that we are able to provide opportunities to the people. I think, providing these opportunities will deter them from sabotaging or creating any obstacles.
Regarding the second part of your question on preparations for engagement with the Taliban, as you may know, we have had a process called QCG [Quadrilateral Coordination Group – Afghanistan, Pakistan, China, USA]. The objective of this group was to bring the Taliban to the table. On paper it made significant amount of progress but sadly when it comes to delivery some of our partner countries were not able to deliver.
But, at the same time, what is important is that the former head of the Taliban leadership, who was recently killed, he had made a decision that he was not going to participate in the peace talks and he ended up dying.
Now we are waiting sort of decision from the new leader of the Taliban, Moulvi Haiatullah Akhunzade. Once we have clarity on the intentions of the Taliban then we will proceed.
We will continue, particularly Afghanistan will continue, to keep its doors open for those who want to live a normal life, for those who want to renounce violence and live in peaceful existence.
Our doors for peace will always be open for those interested in peace.