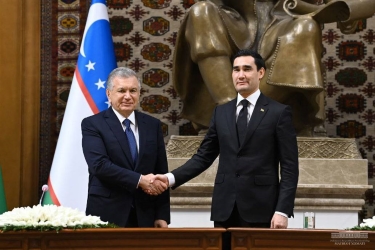 On 22 September 2023, a telephone conversation took place between President of Turkmenistan Serdar Berdimuhamedov and President of Uzbekistan Shavkat Mirziyoyev.
The head of Uzbekistan congratulated Serdar Berdimuhamedov on his birthday, wishing him great success, as well as well-being and prosperity to the Turkmen people.
During the conversation, the Presidents discussed topical issues of the bilateral agenda and regional cooperation.
The development of constructive political dialogue and fruitful interdepartmental contacts was noted. The volume of mutual trade is growing, the project of creating the border zone "Khorezm-Dashoguz" is being jointly implemented. Cooperation in the field of energy and transport is deepening, says the press service of Uzbekistan President.
It was reported that Days of Turkmen Culture will be held in Uzbekistan in October.
The Presidents of Uzbekistan and Turkmenistan also exchanged views on expanding mutually beneficial cooperation in Central Asia, including within the framework of existing multilateral formats.
Earlier Mirziyoyev sent Berdimuhamedov a message of congratulations, which notes: "I am convinced that we will be able to continue to consistently and effectively develop the relations of strategic partnership between the two close neighboring countries through our friendly ties, high-level meetings and regular dialogue." ///nCa, 22 September 2023
#Turkmenistan, #Uzbekistan