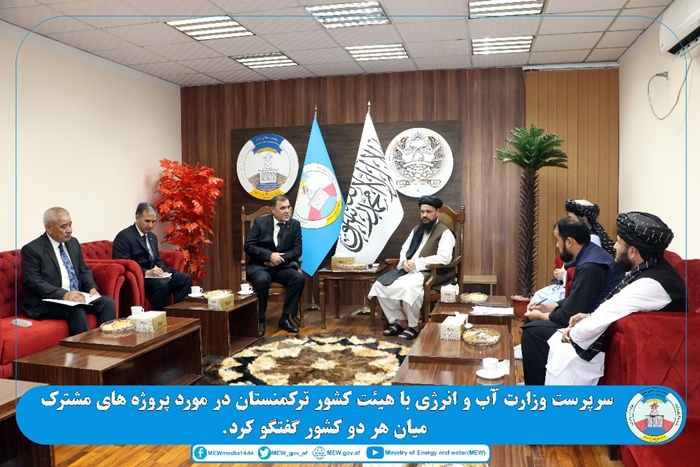 On 18 September, Myrat Artykov, Head of the Department of International Electric Power Projects in the Turkmenistan-Afghanistan-Pakistan direction of the Ministry of Energy of Turkmenistan, met with the Acting Minister of Energy and Water Resources of Afghanistan, Mullah Abdul Latif Mansoor.
According to the Ministry of Energy and Water Resources of Afghanistan, the parties discussed the implementation of the TAP power transmission project and the Nur ul-Jihad substation modernization project being implemented in Herat.
Mullah Abdul Latif Mansour stressed the need to hold a trilateral Turkmenistan-Afghanistan-Pakistan meeting to coordinate the implementation of a transnational electricity transmission project as soon as possible.
In turn, Artykov also supported the proposal to hold a trilateral meeting on TAP regional project.
He also assured the head of the Ministry of Water Resources and Energy that Turkmenistan will continue joint cooperation with Afghanistan.
Speaking about the implementation of joint projects, Artykov said that the construction of the Nur-ul-Jihad substation and 110 kV power transmission line in Herat province will be completed by next winter.
Earlier in August, the Turkmenenergo Corporation and Da Afghanistan Breshna Sherkat held a technical meeting on the project of expanding the power supply of the Noor ul-Jihad substation, following which a conditional agreement was reached on various aspects of the project.
In early September, the Afghanistan's power utility Da Afghanistan Breshan Sherkat officially started work on the modernization of this substation in order to increase the capacity of electricity supplies from Turkmenistan. ///nCa, 18 September 2023 [Photo credit – MEW Afghanistan]
#Afghanistan, #Turkmenistan, #Herat, #DABS, #Noor-ul-Jihad, #electricity, #energy, #TAP